What is the main threat to the UK's native Red squirrel population?
Red squirrels, at one time, could be found all over Great Britain, but can now only be seen in wooded areas throughout the north of England, western Wales and in many parts of Scotland. They are also found on Anglesey, the Isle of Wight, Brownsea Island and in Thetford Forest in Norfolk.
You can help red squirrels by reporting your squirrel sightings
Report a red squirrel sighting
Red squirrels have been found in England since the end of the last Ice Age and are part of our native fauna.
I want to report a red squirrel sighting
If you see a red squirrel, please inform Red Squirrels Northern England. Your sightings are very valuable in monitoring their locations.
Report a grey squirrel sighting
The non-native grey squirrel was introduced to England in the late 1870s from America and is the primary cause of decline of the red squirrel. 
It does so by out-competing red squirrels for food in deciduous and mixed woodlands and by transmitting a disease 'squirrelpox', the squirrel Parapoxvirus, which is lethal to red squirrels.
I want to report a grey squirrel sighting
Record your squirrel sightings on the go! 
The Survey123 app will detect the location for you automatically and you will have a historical record/map of all your sightings collected,
  Get the squirrel sightings app.
Why do red squirrels matter?
The plight of the red squirrel is recognised in local, regional, national and international conservation policies. It is afforded the highest level of protection under UK law: the Wildlife and Countryside Act.
Made eternally popular through Beatrix Potter character Squirrel Nutkin, children and adults across the UK are familiar with the cheeky nature of the animals.
Sadly, red squirrels have suffered severe population decline across the UK. Here in northern England though, evidence is starting to suggest that, through the commitment and dedication of conservation groups, red squirrel range is being maintained.
By working together we can ensure that one of our most-loved iconic species is known to future generations.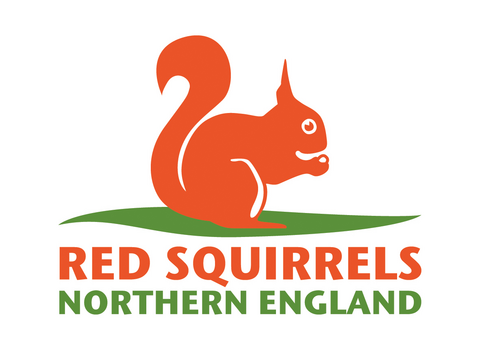 Red Squirrels Northern England (RSNE)
Red Squirrels Northern England (RSNE) is a multi-partner project working to conserve red squirrels in northern England. Cumbria Wildlife Trust is an RSNE partner, along with other organisations including Natural England, Red Squirrel Survival Trust and the Forestry Commission.
Visit the Red Squirrels Northern England website to learn more
RSNE has a simple mission: secure and increase red squirrel range, in and beyond the designated strongholds.

Red Squirrels Northern England
Local voluntary red squirrel groups in Cumbria
Cumbria has 14 red squirrel groups covering most of the county – these are made up entirely of volunteers. The groups are dedicated to conserving Cumbria's red squirrels and work closely with RSNE - without their support, conserving Cumbria's red squirrels would not be possible.
Contact your nearest red squirrel group to find out how you can help them protect the red squirrels in your area.
There are many ways to make a difference, including practical conservation work, fundraising, events and much more. Each group is independent and will have its own requirements for the volunteer help it needs.
I want to volunteer with my local red squirrel group
Volunteer with your local voluntary red squirrel group - Why not get involved with a variety of tasks from surveying and practical work to marketing and events to support red squirrels in your area?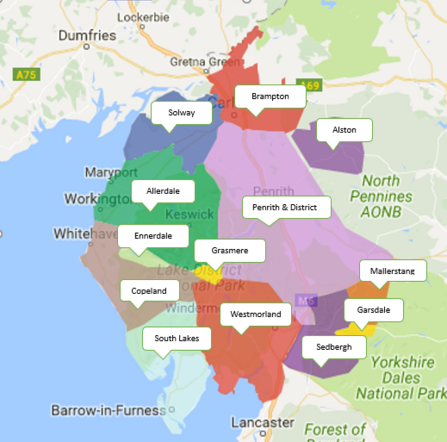 You can find your nearest local voluntary red squirrel group by visiting the website of their umbrella organisation, Northern Red Squirrels.
Looking for red squirrels in Cumbria
If you are walking in woodlands in Cumbria keep your eyes peeled for both red and grey squirrels. It's quite easy to tell them apart – but don't rely on the coat colour.
The reds are considerably smaller and often have long tufts to their ears. Greys always have small, rounded ears and have white hairs along the edge of the tail, giving the tail a halo. 
Below is a list of where you can go and spot a red squirrel at our nature reserves