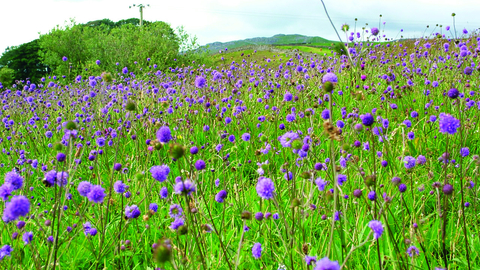 Around the remains of old lead smelt mills, species rich grasslands contain a huge variety of different meadow flowers such as orchids, melancholy thistle and devil's-bit scabious.
Location
Know before you go
Entry fee
All donations are gratefully received.
Parking information
Park behind the post and rail fence.
Bicycle parking
No
Grazing animals
Cattle grazing at times
Walking trails
There is a circular route around the reserve (0.5km/0.3 miles). In the wood the ground is fairly steep and the path has some steps. Visitors make their own way through the meadow.
Access
Ground is fairly steep. The path has some steps and two stiles.
When to visit
Opening times
Open all year round
Best time to visit
May to September
About the reserve
Wildlife highlights
A dazzling array of flowers including globeflower, melancholy thistle, lady's-mantle, common knapweed, wood crane's-bill, great burnet and devil's-bit scabious can be seen between May and September.
Broad-leaved helleborine can be seen in the birch, ash and willow woodland – it's found here at its highest location in Cumbria
Beautiful orchids such as frog, fragrant, common spotted and twayblade 
In Spring - flower display of bluebells, primrose, wild garlic along with herb paris and globe flower
In summer - the upland hay meadow is at its best and orchids are in flower
In autumn - the whole pasture is transformed into a blue mist of devil's bit scabious
Throughout the year you can explore the evidence of the industrial past and archaeological remains.
What makes Augill pasture so special?
The pasture is a particular type of species-rich grassland known as upland hay meadow.
With fewer than 1,000 hectares remaining in just a few valleys in the Pennines and Lake District, this landscape is extremely rare.
Wildflowers abound in the pasture  
The area of open grassland known as the pasture  is a wonderful area of species rich grassland.
From May to September you can find a huge variety of different flowers here including melancholy thistle, lady's mantle, knapweed, wood cranesbill and great burnet.
In summer you will come across orchids such as fly orchid, fragrant orchid,  heath spotted and common spotted orchid.  If you look carefully you might also spot the unassuming frog orchid. 
September is the time when the meadow area takes on a wonderful purple hue when devil's bit scabious is in flower.
Rare mountain hay meadow
This type of grassland, known as mountain hay meadow, is extremely rare in Britain with less than 1,000 hectares remaining in just a few upland valleys in the Pennines and the Lake District.
The pasture was probably used for grazing pit ponies whilst the mines were in operation.
Woodland areas
Since the smelt mill was abandoned at the end of the 19th century, the woodland you now see has been able to regenerate.
The main tree species are birch, ash and willow with a shrub layer of hazel and rowan. 
In late summer, look out for the magnificent broad leaved helleborine which grows here at its highest location in Cumbria.
Keeping it special
In 1990 the site was threatened by the widening of the A66 but fortunately the road was re-routed and the nature reserve was designated as a Site of Special Scientific Interest.
Management involves cutting and grazing to maintain the diversity of plant species found here.
Industrial history
Augill Pasture is now a haven for wildlife but during the 19th century it was at the heart of an industrial area.
Within the nature reserve are the remains of a lead smelt mill dating from 1843 (now leased by the North Pennines Heritage Trust) together with associated structures.
Recent history
Augill Pasture is owned by Plantlife and has been leased to Cumbria Wildlife Trust since 1998. 
Getting here
By car:
From Brough take A66 east for approximately 1 mile. Take the first left and turn right almost immediately. Follow this road until it ends. Park behind the post and rail fence. The reserve is reached by going through a gate in the wall leading to the old smelt mill.
By bicycle:
The reserve is 2.6km/1.6miles from National Route 70 Walney to Wear (W2W).
By public transport:
Buses run from Ravenstonedale and Kirkby Stephen to North Stainmore.
Habitat
Environmental designation
Site of Special Scientific Interest (SSSI)
Special Areas of Conservation (SAC)
Special Site of Scientific Interest