Take a walk off the beaten track
Enter your details below to receive an email containing a collection of free downloadable Wildlife Walks
If you love looking for wildlife while you're out rambling, this series of walks are for you. They've been devised exclusively for Cumbria Wildlife Trust by Beth Pipe, Cumbrian hiker, blogger and freelance writer.
We promise you that we never buy or sell data with other organisations so your contact details are safe with us.
The Wildlife Walks cover a range of beautiful landscapes and habitats, many off the beaten track, from fell top to sea shore and several of them include visits to our nature reserves.
Even if you go walking regularly in Cumbria, you may well discover some quiet, tucked-away corners for the first time!
A special feature of these walks are the Wildlife Highlights that Beth has written. She describes the wonderful variety of birds, plants or animals that you are likely to see on the walks during the different seasons, and points out interesting geological and historical facts along the way.
The walk routes are illustrated with photos by Steve Pipe and images by wildlife photographers.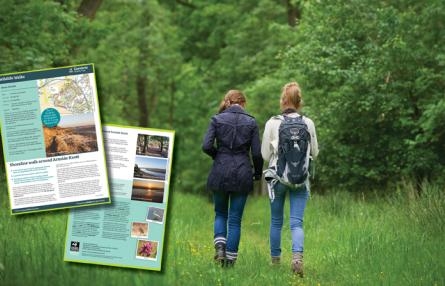 There are nine walks available to download:
Climb from Thirlmere to Raven Crag 
Shoreline walk around Arnside Knott
Coastal walk on the Solway Estuary
Farmland ramble near Burns Beck Moss Nature Reserve
Felltop walk in Martindale
Clifftop walk at St Bees
Walk around South Walney Nature Reserve
NEW! Peaceful walk through Argill Woods
NEW! Dramatic views in the Duddon Valley