Gosling Sike
Gosling Sike brings people, farming, and wildlife together to offer a Wilder Future for Carlisle. Enjoy visiting a wildlife garden that's buzzing with life; walk though pasture, wetland, and woodlands to see farming and nature working in harmony, bring the family to seek The Lost Words, and enjoy an exciting and varied events programme.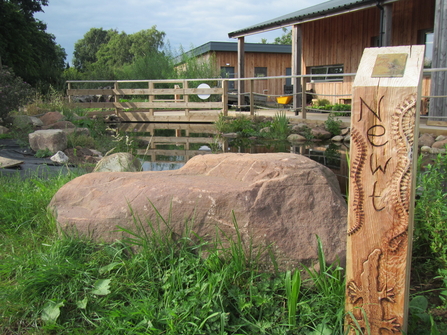 The Lost Words garden
We can all make room for nature and The Lost Words garden is designed to showcase how our gardens can make perfect mini-nature reserves at home. There's inspiration for all sizes and styles of gardens, and ideas and tips for all types of gardener, whether you're a green-fingered expert or make houseplants quiver in fear!
The Lost Words garden is also a place for creativity, inspiration, and reflection. Take the time to read Robert Macfarlane's spell-songs, bringing nature words that were fading from common usage back to life, and follow The Lost Words family trail to discover which words can be found living here at Gosling Sike.
The creation of The Lost Words garden was possible thanks to our wonderful members and supporters, a team of dedicated volunteers, gardener Kate Jackson, and support from Cumbria Waste Management Environment Trust and Biffa Award. Special thanks to Robert Macfarlane and Jackie Morris for giving us permission to bring The Lost Words to Gosling Sike.
Beyond the garden
Of course, Gosling Sike is not just a garden. It is an organic farm with English longhorn cattle, sheep, geese, an orchard, and beekeeping. Gifted to Cumbria Wildlife Trust in 2012 by Susan Aglionby, all aspects of this wildlife haven provide learning opportunities.
The creation of a wetland a few years ago is especially significant as it allows us to demonstrate, on a small scale, how natural flood management works in practice. The remeandering of the sike and creation of pools ensures water is stored on site and the flow downstream is significantly reduced.
There is also a small woodland where you can enjoy the changing seasons.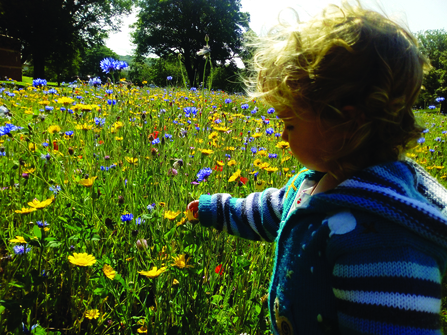 Wild families
There's lots for families to do at Gosling Sike, and with free entry and car parking it makes getting closer to nature easy and accessible for all ages. Go on a quest to seek, find and speak The Lost Words from Robert Macfarlane and Jackie Morris's book and bring the lost nature words back to life. Collect seasonal spotter sheets and enjoy nature walks throughout the year to discover something new on every visit. We also have lots of family events including Wild Wednesdays during the school holidays and weekend events where you can learn how to make your outdoor spaces amazing for wildlife! During office hours you're welcome to call in at the centre and make use of the facilities, pick up activity sheets, and discover more about what else Cumbria Wildlife Trust is doing to help nature near you.
Get involved
We welcome all who would like to help out and be involved with the garden project. If you would like to be involved or are part of a community group that would like to be, please: 
A growing future
Gosling Sike is a changing, growing place and we are always looking for new ways to bring people and nature together. Work on the community wildlife garden is ongoing with lots of volunteering opportunities for groups and individuals who'd like to do their bit for wildlife.
The Get Cumbria Buzzing team is busy creating a wildflower nursery here too. The plants grown here will be used in habitat restoration projects across Cumbria, helping to create a Nature Recovery Network where pollinating insects and native wildflowers can thrive.
The grounds are open year round, and we offer a changing programme of events and activities, so there will always be lots for people to see and do.
To find out more about Gosling Sike, or to discuss ways you or your group could get involved please:
email Jody Ferguson, Gosling Sike centre manager
If you'd like to help Gosling Sike grow you can make a donation to support our work for people and wildlife here:
Upcoming events at Gosling Sike
If there are any upcoming events at Gosling Sike we'll show them to you below.