Since the lottery started there's been over 2,042 lucky winners - you could be next!
What would you do if you won £500? Be in it for your chance to win!
Every month there are great cash prizes on offer, including a monthly jackpot of £500! Imagine treating yourself with this - what would you spend it on?
Since our Win for Wildlife lottery started - 2,042 winners have shared a prize fund of over £116,055 and raised over £158,853 to protect wildlife across the North West.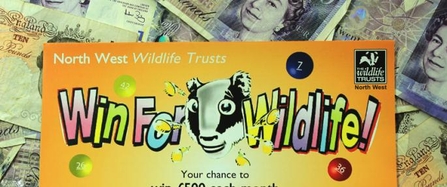 It's only £2 per entry. So, if you love local nature and wildlife here's something wonderful you can do to help protect it.
And of course you have a real chance of winning £500 each month too. Entering is great value and offers a far greater chance of winning than most lotteries.
All profits go directly to protecting wildlife - so you guarantee that your money goes to keeping Cumbria an amazing place for people and for wildlife.
 
How does it work?
Hassle free - when you sign up online you'll be entered into the draw automatically for the next 12 months.
You will be allocated a unique lottery number, which remains yours for as long as you continue playing.
You can have as many lottery numbers as you like for only £2 each. The more numbers you play, the greater chance of winning! 
On the 20th of every month (or the next working day), the lucky winners are selected at random. Prize cheques are issued automatically and posted to arrive with you the following week. This means there's no need to laboriously check your number and put in a claim. You can also check the winning numbers on this page.
Once you've entered, we'll let you know your numbers and the date of your first lottery draw.
Players MUST be 16 years or over.
Our October 2021 winners are:
Prize & winning lottery number:
1st prize (£500) 112542A
2nd prize (£100) PLG0000462 A
3rd prize (£25) 123458C
4th prize (£10) PLG0000356 A
5th prize (£10) PLG0000265 A
6th prize (£10) 130789B
Be in it for your chance to win...  The draw takes place on the 20th every month. Good luck!