Why do people volunteer with us?
By giving an hour, a day, a week or month, no matter how much time you can give to volunteering you will be making a difference for Cumbria's wildlife and wild places.
It's good to be involved in doing something helpful - you can't ignore that "feel good factor"
All of our amazing volunteers work side by side with our staff to help create a better future for wildlife and wild places. Being a volunteer can bring so many positive things into your life:
Contribute your skills and expertise to helping to protect wildlife
Gain new skills and a greater understanding of wildlife conservation
Attend regular networking and training events
Meet new people and make new friends with similar interests
Have fun exploring the natural world
Receive a regular newsletter and information about the Trust's volunteering activities
Previous volunteers have ranged in age from seven to 70 and many come back to help us again. And we don't just think it's our range of teatime biscuits they are coming for!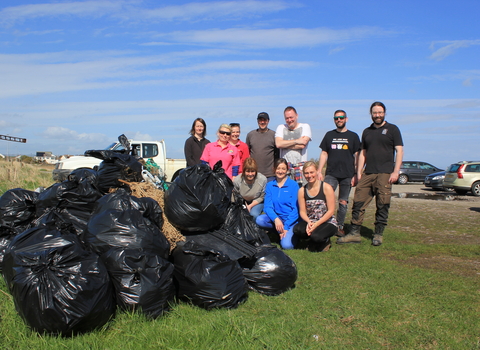 Where can I volunteer?
Our volunteers carry out a huge range of tasks out in the field on our nature reserves and  indoors at our offices. You could find yourself making good use of your organisational, IT, administrative or financial skills.
Conservation and practical work on nature reserves

Regular work parties tackle practical conservation tasks on different nature reserves during the year. Here you may be involved in removing scrub, repairing fences, planting trees and many other tasks needed to keep our nature reserves in tip top condition for wildlife.
Our volunteer Reserve Managers look after our nature reserves
At South Walney Nature Reserve and Foulshaw Moss Nature Reserve visitor reception volunteers greet visitors and help them get the most from their visits.
There are often opportunities for volunteers to get involved with species and habitat surveys

Find out more about our Conservation Work parties
Working with young people

If you have experience of working with young people there are opportunities to become a volunteer leader for one of our Wildlife Watch groups in Cumbria.

The groups provide excellent opportunities for young people to get together and learn more about their environment and get involved in a range of activities, including arts and crafts, bug hunts and watching badgers. We also have assistant watch leader roles.
Help in our offices

We need people with many different skills to help in our offices in Kendal, Carlisle and South Walney.

Some of our volunteers work on a regular basis, but we also have opportunities for people to help with specific tasks or tasks that can be done from home.

Some jobs require specialist skills such as data analysis or GIS whilst others suit people with more general office based experience.
Local support groups

Perhaps you might like to get involved in one of our 8 Local Support Groups to raise money, and to organise activities such as fun days and garden open days.

The groups also help us promote the work of Cumbria Wildlife Trust through regular walks and talks.
 
Trustee or member of the committee

We are always looking out for people with suitable experience who are willing to help in our Trust governance - on our Board of Trustees or one of the committees that advises our Board.
Further guidance
Are you are under 16 but still want to help?
Need assistance with filling in the registration form?
Worried that health problems might be a barrier to getting involved?
Please email our Volunteering Officer or call him on 01539 816300 for helpful guidance.
You do not have to be a member of Cumbria Wildlife Trust to volunteer however both membership and donations help to fund our work for wildlife and wild places.
Volunteer Expense Form -Mileage only
Volunteer Expense Form -Mileage and Other expenses