A peaceful upland with spectacular views Eycott Hill Nature Reserve is the perfect place for a low level walk, or wildlife adventure!

Enjoy colourful wildflowers, spot beautiful dragonflies and butterflies, keep an eye on the skies to see soaring birds of prey, and listen for the distinctive calls of lapwing, curlew and skylark.

Scroll down to take a virtual tour of Eycott Hill Nature Reserve.
Location
Know before you go
Parking information
Car park
Bicycle parking
Cycle racks can be found near the nature reserve entrance
Grazing animals
Belted Galloway cattle. If the cattle show any aggression towards your dog then let your dog go, it can run faster than the cattle. In the unlikely event of any problems with the cattle please call Cumbria Wildlife Trust on 01539 816300.
Walking trails
There is a waymarked route to the summit from the car park (1.3km/0.8miles) but there are no surfaced paths and the ground is uneven and often extremely wet so wellington boots are advised.
Access
No surfaced paths. Uneven and wet ground.
When to visit
Opening times
All year round
Best time to visit
All year round
About the reserve
Wildlife highlights
Montane flowers including mountain pansy and mountain everlasting can be seen across the fell and a colourful display of summer wildflowers brighten the hay meadow.
Lots of wetland plants including 20 sedge species, 18 species of Sphagnum moss, grass-of-Parnassus, round-leaved sundew and cottongrass.
Breeding birds include curlew, snipe, meadow pipit, skylark and wheatear.
March: the white flowers of wood anemone will start to appear, and look out for the wheatears as these handsome birds arrive from Africa for the summer.
May: several interesting wildflowers come in to bloom including the eye catching mountain pansy. The delicate flowers of common butterwort also come out at this time and you may see some of the earlier emerging dragonflies, including four-spotted chasers and large red damselflies.
June: another species that thrives in the uplands, mountain everlasting, comes in to flower and on sunnier days you should encounter good numbers of small pearl-bordered fritillary butterflies.
July to October: grass-of-parnassus and devil's bit scabious are in flower and two of our larger dragonflies, common hawker and golden-ringed dragonfly can be found.
Diverse habitat
The first part of the nature reserve is made up of rough upland pasture and newly created hay meadow, great for wildflowers and flying insects.
Hedgerows are being restored with young saplings planted alongside ancient trees to provide nesting sites and shelter for a variety of birds, and small mammals and reptiles can take cover in the dry stone walls.
As you enter the Site of Special Scientific Interest the habitats change and it gets much wetter underfoot. These wetlands are made up of swamps and mires and are very important for wildlife.
The botanical interest in this part of the site contributes to the Site of Special Scientific Interest designation and includes high numbers of sedge and Sphagnum moss species.
Naddle's beck and its tributaries flow from the site to the River Glenderamackin and form an important part of the diverse habitat at Eycott Hill Nature Reserve.
During the project we'll be planting to help re-establish woodlands and juniper scrub to make it an appealing home for many more species.
Plant life
Eycott Hill nature reserve is home to an impressive array of flora. Rare species include Sphagnum fuscum, lesser tussock sedge, bog sedge, and few-flowered sedge.
Look out for grass-of- parnassus with its white star shaped flower, the carnivorous lesser bladderwort and round-leaved sundew, and the deep red flowers of marsh cinquefoil, a member of the rose family!
Part of the reason for the sites designation as Site of Special Scientific Interest is the high numbers of sedge, 20 species, and Sphagnum moss, 18 species, that are present in the wetland.
Drier parts of the site are brightened by mountain pansy, wood anemone, and the unusual flowers of mountain everlasting. As the restored hay meadow becomes established you'll be greeted by a dazzling array of brightly coloured and wonderfully scented wildflowers at the entrance to the reserve.
On the wing Buzzards and ravens soar above Eycott Hill and the abundance of owl pellets on the ground is evidence of short eared owls on the site.
The chances of spotting the distinctive wavering flight of the lapwing are high and you'll probably hear its 'peewit' call. Curlew, snipe, wheatear, meadow pipit and skylark also breed on the site.
Butterflies, dragonflies, and damselflies add to the colour over summer. Look out for small pearl-bordered fritillary butterflies, four-spotted chasers, and large red damselflies.
It is the only site in northern England where the dark deerfly, Chrysops sepulclaris, is found.  
Geology - a volcanic landscape
Shaped by volcanic activity 460 million years ago, the ancient lava flows are still visible across the site. The oldest lavas containing large, pale feldspar crystals, can be seen in the rocks to the west of the nature reserve. Wetlands with unusually high numbers of sedge and Sphagnum mosses have formed between the lava ridges.
The importance of the site in terms of geology is recognised in its designation as a Site of Special Scientific Interest, and the nationally important Eycott Volcanic Group of rock formations was named after this location.  
What makes Eycott Hill so special?
A mosaic of upland habitats including moorland, flower-rich meadows and wetlands create a fabulous, varied home for wildlife.
An array of wildflowers and wetland plants attract butterflies such as the small pearl-bordered fritillary, whilst golden-ringed and four-spotted chasers are among the dragonflies darting over wetlands and becks.
Ground nesting birds and small mammals hide among heath and grasslands.
Keeping it special
An ambitious 5 year project funded by Heritage Lottery Fund will make the nature reserve more accessible and the land will be managed with wildlife as a priority.
The intricate mosaic of upland habitats that should be found on the reserve, such as scrub and woodland, heath, wet flushes and grasslands; and the fantastic swamps and mires will be improved.
The aim is to show how the uplands can be managed for the benefit of the wider environment by achieving several different things including habitat and species restoration; sustainable food production; carbon storage to help moderate climate change; cleaner water; and flood alleviation through water storage.
The site is grazed by a herd of Belted Galloway cattle, owned and managed by James Irving, a local farmer who will use Eycott Hill Nature Reserve as conservation grazing. 
Subtle interpretation and seating will be installed close to a small car park so visitors can take in the views and learn a bit more about Eycott Hill Nature Reserve.
A short way marked route (avoiding the boggiest areas!) will lead to a viewpoint with spectacular views, and small interpretation panels will be dotted around the site.  
Recent history
Eycott Hill was purchased by the Trust in 2015.
Getting here
By car:
From the M6 junction 40 follow the A66 towards Keswick, After approximately 7 miles turn right , signposted Hutton Roof (look out for the Sportsman's Inn from the A66), take the next left, signposted Hutton Roof, Berrier and Whitbarrow. Follow this road for 1.6 miles through the hamlet of Berrier, the reserve and car park is on the left hand side.
By bicycle:
The reserve is adjacent to National Route 71 Sea to Sea (C2C) on the Mungrisdale loop. Follow NCN71 signs. Cycle racks can be found near the reserve entrance.
By public transport:
The nearest bus stop is 2.4km/1.5miles away at the Sportsman's Inn just off the A66. The regular service between Penrith and Keswick stops here.
Species
Environmental designation
Site of Special Scientific Interest (SSSI)
Take a virtual tour of Eycott Hill Nature Reserve
Take an aerial tour of the fascinating geology of Eycott Hill Nature Reserve.
Further information about Eycott Hill Nature Reserve
Thank you to our generous members for their support and to our funders; the National Lottery Heritage Fund, FCC Communities Foundation, Cumbria Waste Management Environment Trust, The Garfield Weston Foundation, Natural England, Banister Charitable Trust, Biffa Award, the Esmée Fairbairn Foundation and who made the purchase and project possible.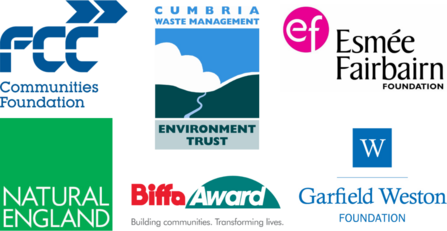 Upcoming events at Eycott Hill Nature Reserve
If there are any upcoming events at Eycott Hill Nature Reserve we'll show them to you below.
Join in the conversation