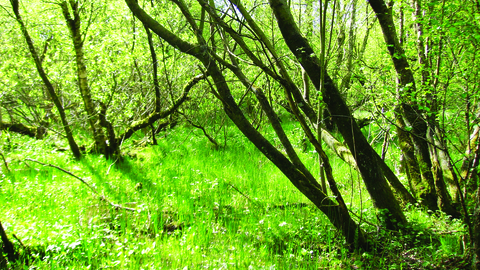 Tussocky sedges and some unusual wetland plants combined with the wet woodland of willow and alder provide a home for some rare spiders and beetles.
Location
Know before you go
Entry fee
All donations are gratefully received.
Parking information
No designated parking
Bicycle parking
No
Grazing animals
No
Walking trails
The nature reserve is 0.3 hectares. There is no path.
Access
Directions take you to the end of the Trust-owned strip of Newton Reigny, however, the reserve boundaries are not visible on the ground. The moss is very wet with numerous ditches and dense willow scrub. Wellington boots are essential.
Take care! Extreme care should be taken by visitors and it is recommended that people do not visit the moss alone.
Dogs
Guide dogs only
Assistance dogs only
When to visit
Opening times
Open all year round
Best time to visit
April to August
About the reserve
Wildlife highlights
The starry white flowers of bogbean can be seen from March and spring woodland birds are in full song. 
As well as the common species of willow, the more unusual varieties of bay, tea-leaved and dark-leaved willow are also found on the moss.
Spot a number of rare spiders and beetles in the wet woodland.
In summer find the crimson flowers of marsh-cinquefoil, yellow globe flowers and great-fen sedge.
Wildflowers are numerous and attract a number of pollinating insects.
How the moss formed
Newton Reigny is one of a series of mires in the Eden Valley, that was divided into strips in the 19th century. These would initially have been lakes which gradually filled up with vegetation forming peat. 
At one time, it is likely that Newton Reigny was a rain-fed raised mire (like Drumburgh Moss and Meathop Moss) however it has been considerably modified by man.
Willow and alder have colonised much of the site, but the fen supports a diversity of sedge species including slender, lesser tussock, and great-fen sedge.
A wet mossy habitat
Drainage, particularly after World War II, has meant that the moss has become much drier and willow and alder have now colonised much of the site - although it is still a very wet place to visit.
As well as common species of willow, you can also find bay, tea-leaved and dark-leaved willow here. In the very wettest areas there is a diversity of sedge species including slender, lesser tussock and great fen sedge.
You will also find bog-bean, greater spearwort, marsh cinquefoil, cottongrass, marsh valerian and ragged robin here too.
The moss has long been known as an excellent site for invertebrates and a number of rare spiders and beetles have been recorded here.
Recent history
The nature reserve was given to the Trust in 1969 by Lt Col St H W T Lewis.
Peat cutting
Peat was used extensively for domestic fuel until the 19th century and Newton Reigny Moss was divided into 35 strips or stints so that local families could cut their own.
Although peat cutting ceased in 1840, the moss is still in multiple ownership with Cumbria Wildlife Trust owning just one small stint.
Getting here
By car:
From Penrith take the B5288 towards Greystoke.  Immediatly after crossing the M6 turn right for Newton Reigny. In the village turn left down a small road and park here. Follow this road on foot until it turns into a farm track and go through the gate into the field on the right hand side. Cross the field turning left at the large boulder to a stile onto the moss.
By bicycle:
The reserve is 0.4km/ 0.25 miles from National Route 7 Coast to Coast.
By public transport:
Buses run from Penrith to Newton Reigny.
Habitat
Environmental designation
Site of Special Scientific Interest (SSSI)
Upcoming events at Newton Reigny Nature Reserve
If there are any upcoming events at Newton Reigny Nature Reserve we'll show them to you below.