Celebrate magnificent meadows at Eycott Hill Nature Reserve this July
Cumbria Wildlife Trust is celebrating the magnificent meadows at Eycott Hill Nature Reserve with a series of events this July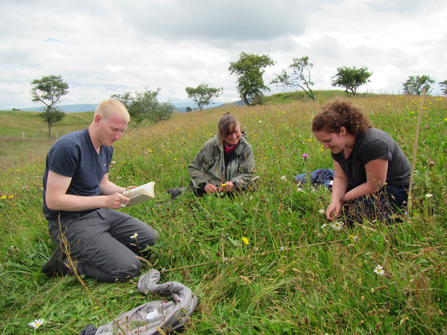 From textile arts, to botanical surveying, family fun, and guided walks, all ages and interests can discover why flower-rich meadows are so amazing!
The events are free of charge thanks to National Lottery Players and support from the Heritage Lottery Fund, which awarded £1.6 million towards the purchase price and an ongoing five year programme of conservation and activities to benefit wildlife and people.
On Saturday 7 July (10.00am–4.00pm) artists can celebrate National Meadows Day at a one-day workshop, led by artist Sarah Colgate, and produce a textile wall hanging using techniques including sketching, applique, embroidery, and watercolours. The event is free, donations welcome, but a refundable deposit of £35 is required on booking to secure a place.
The following day, Sunday 8 July, visitors of all ages can discover the incredible insects that live in flower-filled meadows at a free family event that runs from 10.00am to 4.00pm. There is a mix of bookable and drop in events. Read more about the incredible insects day.
Please see  all events here or email us for full details.  
Cumbria Wildlife Trust is also looking for volunteers to help with meadow surveys to identify the wildflowers and grasses present in the meadows. This helps to measure the success of restoration work done earlier in the project and informs future management of the meadows. Surveys will be taking place on Wednesday 4 July, Thursday 12 July, and Tuesday 17 July (10.00am – 3.30pm). Some previous botany experience would be helpful but you don't need to be an expert!
On Tuesday 17 July (2.00pm–3.00pm) there's also an opportunity to join a 'meadow meander' guided walk to discover more about common meadow flowers, the wildlife they attract, folklore associated with them, and Cumbria Wildlife Trust's work to restore and protect precious meadow habitats.
Click here for full details on all events and to book. Alternatively ring us on 01539 816300, or email events@cumbriawildlifetrust.org.uk
Cumbria Wildlife Trust restored six hectares of meadow at Eycott Hill Nature Reserve between 2014 and 2017 with the help of some fantastic volunteers and support from the Heritage Lottery Fund, WREN via funds donated by FCC Environment to the Landfill Communities Fund, and through the Coronation Meadows project, supported by Biffa Award.
Located between Keswick and Penrith, near to the village of Mungrisdale, Eycott Hill Nature Reserve is 216 hectares of exceptionally rich wildlife habitat and is a Site of Special Scientific Interest for the plant life in the wetlands and its geology. Car parking and entry to the nature reserve is free of charge. Find out more or get the latest Eycott Hill news by email.