Local wildlife enthusiasts spot rare and endangered butterflies
We can confirm that the marsh fritillary butterfly is now breeding at Eycott Hill Nature Reserve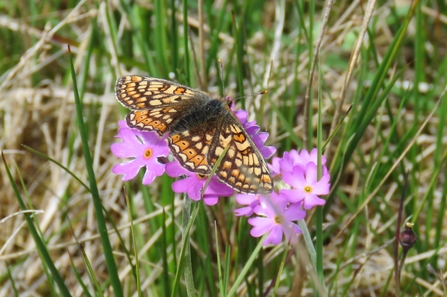 Three local wildlife enthusiasts have spotted marsh fritillary butterflies at Eycott Hill, our upland nature reserve near Blencathra. This is exciting news as it shows that this rare butterfly, which is threatened across Europe, is breeding on the nature reserve and may succeed in establishing a new colony there.
Chris Knowles, Wanda Rossiter and Sheila Larking were out walking at Eycott Hill Nature Reserve a few weeks ago. Chris says: "We are not expert butterfly spotters but interested in wildlife in general. The butterflies appeared to be rather sedentary hence we were able to snap them on our phone."  
Chris and his friends reported their sighting to us. Kevin Scott, Reserves Officer for Cumbria Wildlife Trust says: "This sighting is fantastic, a very exciting moment for us and we're very grateful to Chris and his friends for recording it. We'd recorded a single marsh fritillary at Eycott Hill last year and this April, we were delighted when one of our members, Julia Garner, photographed a marsh fritillary caterpillar. After Chris got in touch with us recently, I went to Eycott Hill Nature Reserve to have a look, and saw no fewer than four marsh fritillaries! This shows that they've probably colonised the site naturally, though it's difficult to say where from."
Kevin explains why this sighting is so important in conservation terms: "This is crucial to the ongoing success of the species in Cumbria as it relies on 'metapopulations' (lots of populations spread over different areas). If one population becomes extinct locally, there are others which will keep the species going and allows for the possibility of the site being recolonised. Of course it remains to be seen whether the population on Eycott thrive and continue to breed, but let's hope so!"
The marsh fritillary butterfly is threatened all over Europe. In England it has declined by 66% since 1990. Following a reintroduction programme in Cumbria by Natural England and Butterfly Conservation, starting in 2008, the marsh fritillary is doing much better and appears to be spreading. According to Butterfly Conservation, since 2016 it has colonised suitable new sites, where there is devil's-bit scabious, by natural migration and the butterflies are now found on at least 24 sites in the county, in five or six groupings. 
Whilst he was recording the marsh fritillaries, Kevin was also excited to see a new plant species at the nature reserve. The butterfly he photographed was perched on a bird's-eye primrose (Primula farinosa), the first of this species recorded at Eycott Hill. Kevin said: "It's quite a rare plant with a very limited distribution, mostly across northern England. We believe the appearance of the bird's-eye primrose here is a result of the change in grazing on our nature reserve. There's also an abundance of devil's-bit scabious here (the marsh fritillary's plant food) - this also does a lot better under our current cattle grazing regime, rather than under sheep. This not only allows plants like devil's-bit scabious to thrive, but also gives the vegetation structure that the butterflies need."
Eycott Hill is grazed by belted Galloway cattle, owned and managed by local farmer James Irving. Cattle like these are used for conservation grazing, which promotes greater biodiversity than sheep grazing. This hardy, native breed of cattle graze with their tongues, leaving different heights of vegetation, which helps native plants to take hold and flourish.   
These important recordings at the nature reserve follow an ambitious five-year project funded by The National Lottery Heritage Fund and others, which has made Eycott Hill Nature Reserve more accessible, with the land being restored and managed with wildlife as a priority.

Our thanks to The National Lottery Heritage Fund, FCC Communities Foundation, Cumbria Waste Management Environment Trust, The Garfield Weston Foundation, Natural England, Banister Charitable Trust, Biffa Award, and the Esmée Fairbairn Foundation who made the Eycott Hill purchase and project possible.