Sighting of marsh fritillary butterfly sends hopes fluttering at Eycott Hill
The sighting last summer of a rare and endangered butterfly at Eycott Hill was one of many important insects recorded on the nature reserve in 2020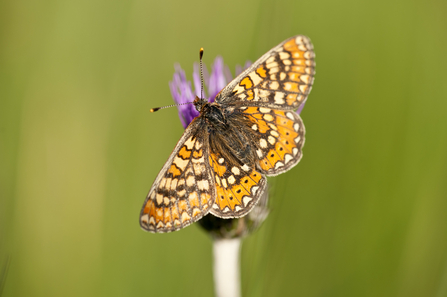 It may be small - with a wing span of around 4cm – but a solitary sighting of the brightly coloured marsh fritillary butterfly has excited staff and volunteers at Eycott Hill, our upland nature reserve near Blencathra. Recorded in wetland near the new oak woods last July, they say it is the most exciting recording in their recently-published survey of insects on the site.
Kevin Scott, Reserves Officer for Cumbria Wildlife Trust said: "The sighting of a marsh fritillary was fantastic, a very exciting moment for us. This species of butterfly is threatened all over Europe. In England it has declined by 66% since 1990 and became extinct in Cumbria in 2004. It's been successfully reintroduced to a number of sites and has recolonised new areas, which is great. The marsh fritillary caterpillar's food-plant is devil's-bit scabious, which is abundant at Eycott Hill Nature Reserve. While it's early days, this solitary sighting brings up the very exciting possibility that the marsh fritillary may one day colonise Eycott Hill."
This is just one of many important insect recordings that features in the latest Eycott Hill Invertebrate Survey. The 2020 report describes how various interesting and rare species are establishing themselves at the nature reserve, following a five-year programme of habitat restoration. Kevin says: "We're particularly pleased about the increase in pollinating insects in the hay meadows, with record numbers of mountain bumblebees (also known as bilberry bumblebees). These bees are seriously declining in numbers across the country, probably due to a combination of habitat loss and climate change, although pesticides are likely to play a role. They're found in hilly areas and their decline is a sign of the overall loss of biodiversity in these areas.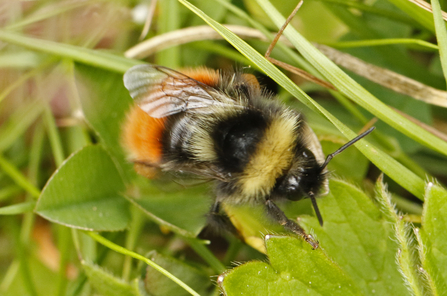 "We've also seen impressive numbers of sawflies and hoverfly species, a sign of the success of the restoration of the species-rich grassland habitat on the reserve. We also have a healthy population of the wonderfully-named chimney-sweeper moth. They rely on good populations of their food-plant, pignut. Pignut grows in unimproved grasslands as well as damp woodlands, hedgerows and road verges.  It has declined on a local scale due to agricultural improvement and loss of species rich grasslands, so although a UK distribution map shows it as very widespread, local populations are much reduced.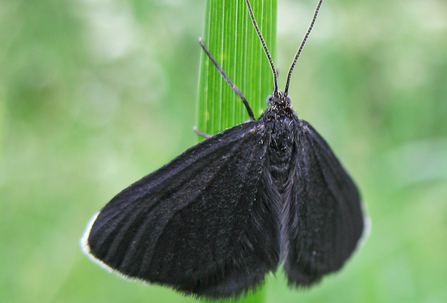 "Aquatic insects have benefitted from the creation of ponds in the hay meadows and at Naddles Beck. There are now eight species of dragonfly breeding at Eycott Hill, the most exciting of which is the broad-bodied chaser, which is spreading northwards but still considered rare in Cumbria. There is still a thriving population of small pearl-bordered fritillary butterflies, which seem to be increasing in numbers on the nature reserve, bucking the national trend."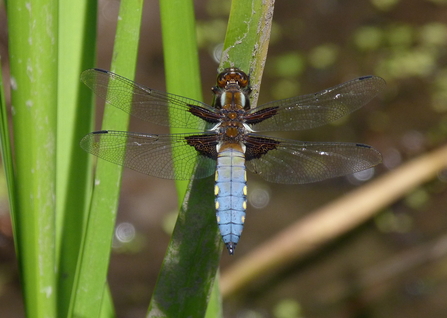 Kevin explains why saving insects is so important: "We estimate that 41% of insects face extinction, partly down to loss of habitat. This really matters, because without insects, many birds, bats, mammals and other species will die out, as they won't have anything to eat. Plants need insects to pollinate, including for the food we eat." 
The survey of insects was done as a follow-up to a similar report in 2014, just before the start of the five-year National Lottery Heritage Funded project at Eycott Hill. The project combined habitat restoration with restorative, low-input farming and engaging with local communities about the work that was being done. The 2020 survey focuses in particular on the habitats that have been newly created or restored in the past five years. Both studies combined identified a total of 1,588 invertebrate records at the nature reserve and 459 species. A total of 31 species were identified as endangered, vulnerable or rare.
During the five years of the project at Eycott Hill Nature Reserve, over 10,000 trees were planted, six hectares of hay meadows have been brought back to life and 20 man-made ditches have been blocked, to create 29 small pools, or scrapes. These are shallow ponds, less than 1cm deep, which hold rain or flood water and provide valuable food and refuges for a range of wildlife.

The work at Eycott Hill Nature Reserve was possible thanks to National Lottery Players, and support from the National Lottery Heritage Fund.