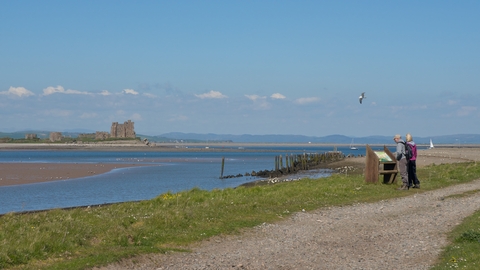 With stunning views across Morecambe bay, this shingle island reserve is full of interest and a fantastic place for bird watching. South Walney Nature Reserve is home to the only grey seal colony in Cumbria.
Know before you go
Entry fee
All donations are gratefully received. A suggested donation is £3.00 for adults and £1.00 for children.
Parking information
Car park
Bicycle parking
Yes
Grazing animals
Cattle
Walking trails
There are several waymarked trails on the reserve (Red trail 5km/3 miles, blue trail 3km/2 miles).
Access
Main track from the car park to Pier Hide and the Lighthouse is reasonably level. Off road mobility tramper available for hire. A kind donation of £5 is appreciated for the use of the tramper. Please book in advance by calling the Reserve Officer on 01229 471066.
During very high tides (9.86m and above) or when there are strong winds, the road to/from the nature reserve can be cut off for a period of time.
When to visit
Opening times
South Walney nature reserve is open daily 10am to 5pm (4pm in winter). The reserve gate is closed and locked shortly after closing time.
Best time to visit
March to August
About the reserve
Grey seals at #SouthWalney
The grey seals can be seen playing in the water at high tide, along with thousands of wintering wildfowl and wader birds, from hides elsewhere on the nature reserve. 
Baby seals are incredibly vulnerable to disturbance, which would cause the mother to abandon it and the pup to starve.
There is strictly no access to the area of the nature reserve where the seals are located.
Find out where our gulls are going
Some of our Lesser black-backed and Herring gulls have been fitted with tiny solar powered trackers. You can see what the gulls are up to and track their movements around the bay in real time.  
Wildlife highlights
Spring is the time to see courting eider ducks and catch the returning spring migrants- wheatear, willow warbler and sandwich terns. Thrift and sea campion come into flower.
In summer see nesting gulls, eiders, oystercatchers and ringed plovers. Burnet moths and grayling butterflies are on the wing and viper's bugloss, yellow horned poppy and sea lavender are in flower.
Autumn catch the flocks of migratory curlew, spotted redshank, redstart and pink-footed geese. 
Winter marvel at the high tide roosts of waders and wildfowl. 
Throughout the year look out for barn owls, short-eared owls and peregrines and grey seals at high tide.   
Haven for breeding birds
Each spring, large numbers of lesser black backed and herring gulls return to begin to set up nest territories.
You can also see breeding eider duck, greater black backed gull, shelduck, oystercatcher, mallard, moorhen and coot.  
Many of the 250 bird species recorded however are passage migrants on their way to or from breeding grounds. These include common species such as wheatear, redstart, willow warbler and gold crest, as well as more unusual species, which may have been blown off their normal migration route.
In winter you can see large numbers of waders and wildfowl feeding and roosting around the nature reserve both on the gravel pools and the intertidal areas.  
Plants at South Walney
Vegetated shingle is an unusual habitat - look out for yellow horned poppy, sea campion and biting stonecrop. 
In the small areas of surviving dune grassland survive look out for pyramidal orchid, Portland spurge, restharrow and wild pansy. 
The old gravel workings have developed their own communities with striking plants such as viper's bugloss, henbane and alkanet.
In the saltmarsh in Lighthouse Bay you can find specialists such as as thrift, glasswort and sea purslane.  
Shingle island
South Walney forms the southern tip of a shingle island lying at the end of the Furness Peninsula.
During the medieval period it was farmed by the monks of Furness Abbey, whilst during the 19th and 20th centuries salt, sand and gravel were extracted leaving large lagoons and some industrial remains. 
South Walney has been leased from Holker Estates since 1963.  
Getting there By car:
From Barrow in Furness follow signs for Walney Island.  Cross Jubilee Bridge onto the Island and follow brown signs left at traffic lights, follow this road for about 1km/0.6 miles then turn left down Carr Lane.  Continue on this road past Biggar Village.  The reserve is 1km beyond the South End Caravan Site.   By bicycle:  The reserve is 5km/ 3 miles from National Route 72 Walney to Wear.
By public transport:
Buses run from Barrow in Furness to Biggar.
Habitat
Environmental designation
Site of Special Scientific Interest (SSSI)
Special Areas of Conservation (SAC)
Special Protection Areas (SPA)