Fell ponies return to Clints Quarry
Three fell ponies, a hardy breed native to Cumbria, have been brought to Clints Quarry, our nature reserve near Egremont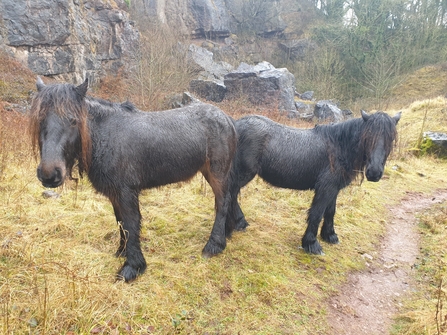 The young ponies have been brought in for three months to graze the vegetation on the nature reserve, as this is the best way to leave the species-rich grassland open, to allow rare flowers such as orchids to thrive. The former quarry, with its dramatic limestone rock and industrial heritage, is popular with walkers who have spotted the new residents and taken a great interest in them.
However several well-meaning passers-by have assumed the ponies are 'lost' and have been trying to feed them. Sarah Dalrymple, Reserves Officer for Cumbria Wildlife Trust, explains why this is a bad idea: "The ponies have been brought here deliberately, to graze on the vegetation. We want them to control the overgrown scrub, so that the fantastic wildflowers, which this quarry is known for, can thrive. This sheltered quarry is a summertime haven for wildflowers and insects and butterflies and what a wonderful kick-start these ponies will give to the soil and plant life in this very special place. Feeding the ponies is not good for them or for the amazing wildlife in this site, which is designated as a Site of Special Scientific Interest. We ask all visitors to admire the ponies from afar, and to keep dogs on leads while they're on the nature reserve, so as not to alarm the ponies. This way they can get on with the important job that we've brought them in to do! These ponies have shaped our lives in the Cumbrian landscape, so it's nice to see them share this peaceful haven, helping wildlife make a continued recovery."
Clints Quarry has been left to nature over the last 80 years. During its working history, since the 17th century, quarry workers would have worked alongside the ancestors of these young ponies. Native ponies were in their heyday then. Strong and even tempered, working in droves as pack ponies, they would have brought the quarried stone out to the lime kilns for agriculture use. Local houses and buildings would have also been built from this quarry and fell ponies would have played an important part in the region as transport. Later in the 19th century, the quarry had its own railway line and the limestone was used in the local steel-making factories up until the 1930s when the quarry was closed.
Fell ponies are a working breed of mountain and moorland pony, native to the North of England, and are mostly found in Cumbria, where they probably they roamed from pre-historic times. They are noted for their hardiness, agility, strength, and sure-footedness.
In the summer, the wildflowers found at Clints Quarry include wild strawberry, oxeye daisy and mouse-ear-hawkweed. It's also one of the most northerly places in England to find bee orchids. The abundance of these flowers attract a wide range of butterflies, such as ringlet, common blue, orange-tip and meadow brown.