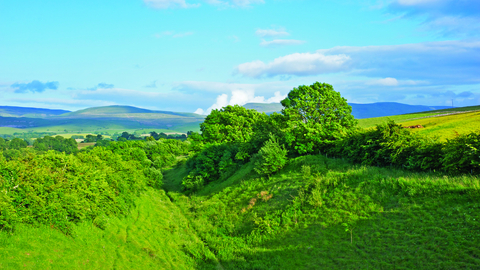 Track works are scheduled to commence Monday 17 May. The reserve between Brownber and the viaduct is to be closed for up to a month. 
Waitby Greenriggs occupies a short section of the old Stainmore Railway and the Eden Valley branch line where these two lines converge.
Location
Know before you go
Entry fee
All donations gratefully received.
Parking information
Yes
Bicycle parking
No
Grazing animals
Late summer grazing.
Walking trails
0.8km/0.5 miles level walking on the track, accessed by a stone stile and gentle slope along the cutting (or steep steps).
Access
Steps connect upper and lower tracks at the southern section.
When to visit
Opening times
Open all year round
Best time to visit
April to August
About the reserve
Wildlife highlights
Common spotted, fragrant, fly, lesser butterfly, northern marsh and marsh helleborine orchids.
20 species of butterfly can be seen amongst the flowers during the summer.
Look up for a chance of seeing tawny owls and buzzards overhead.
What makes Waitby Greenriggs so special?
The cuttings and embankments at Waitby Greenriggs have developed incredibly diverse grassland flora with over 200 varieties colonising the site.
The display starts in May as bird's-eye primrose comes into bloom, but mid-to-late June is when the show is at its best as this is when the majority of orchids come into flower.
Globeflower, salad burnet, meadow crane's-bill and oxeye daisy can also be seen at this time, followed by the beautiful marsh helleborine, yellow-rattle and harebell in July.
Finally, in August, devil's bit scabious and the diminutive autumn gentian appear.
Recent history
Waitby Greenriggs Nature Reserve was purchased from British Rail in 1987.
Getting here
By car:
From A685 between Ravenstonedale and Kirkby Stephen, take the Smardale turning then first right for Waitby; go under the railway bridge and turn right at the junction. After 0.75km/0.45 miles park on the left, immediately before the bridge. 
By bicycle
The nature reserve is 2.3km/3miles from National Route 70 Walney to Wear (W2W).
By public transport
The nearest train station is Kirkby Stephen West on the Settle to Carlisle line. Buses run from Kendal, Sedbergh and Brough to Kirkby Stephen.
Habitat
Environmental designation
Local Wildlife Site (LWS)