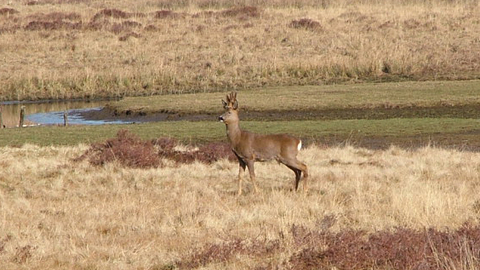 Orchids, bird's-eye primrose and other plants thrive in the lime-rich flushes on this reserve.
Know before you go
Grazing animals
Cattle graze between September and March
Walking trails
The reserve itself is very wet and walking can be difficult due to the tussocky nature of the ground. Tarn Sike itself has deep water and other parts of the reserve may be extremely wet. There are no paths around the reserves, however there is a footbridge over the Sike.
Access
Walking can be difficult on wet and tussocky ground.
When to visit
Opening times
Open at all times
Best time to visit
April to July
About the reserve
Highlights In spring curlew, skylark and other birds start to nest Summer is a great time for marsh orchid and bird's-eye primrose Visit towards dusk in autumn to catch the starling roost- see video clip below Nationally important Tarn Sike is part of Sunbiggin Tarn and Moors SSSI, which is nationally important for its rich and varied flora and for its breeding birds. Taking its name from the stream that flows flows through the reserve, Tarn Sike has a wide range of habitats.  This is due to the combined effect of the underlying peaty soils and limestone rock. Wildflowers of heath and lime-rich flushes Areas of heath with cross-leaved heath, Sphagnum moss and purple moor grass are interspersed with lime-rich flushes where you can find black bog-rush, grass of Parnassus and bird's-eye primrose.  In these flushed areas look out for fragrant, early marsh and northern marsh orchid as well as broad-leaved cottongrass.  You can also find bogbean, round-leaved sundew, butterwort, marsh marigold, meadowsweet and marsh cinquefoil. This is an excellent site for finding some quite uncommon sedges. Birdlife Mallard, redshank, curlew, snipe, meadow pipit and skylark have all nested on the nature reserve and are frequently seen during the breeding season. Teal and short-eared owl may be seen in winter. Invertebrates In summer you can spot butterflies such as common blue, green veined white and small heath along with emperor and fox moths. From the lime-rich flushes we have records of 15 different species of snail.  We suspect that there is quite a rich invertebrate fauna here but much more work is needed. Other wildlife Fox, hare, stoat and short-tailed vole have been seen on the nature reserve. Keeping it special In order to maintain the diversity of habitats and species, the nature reserve is grazed between September and March. The effects of this management are monitored via vegetation surveys and fixed-point photography. Tarn Sike was purchased in 1981 with the help of an anonymous donation. Getting  here By car:  From M6 Junction 38 take the B6260 through Tebay to Orton.  In Orton take the right turn signed for Raisebeck and follow the sign for Sunbiggin Tarn, Asby and Soulby. Follow this road until a cattle grid is crossed and the road becomes open fell. Tarn Sike is reached by following the boundary wall on thenorth side of the road for approx 300m. By bicycle:  The reserve is on National Route 68 Walney to Wear. By public transport:  Buses run from Kendal and Tebay to Orton Roosting starlings near Tarn Sike  
Environmental designation
Site of Special Scientific Interest (SSSI)
Special Areas of Conservation (SAC)