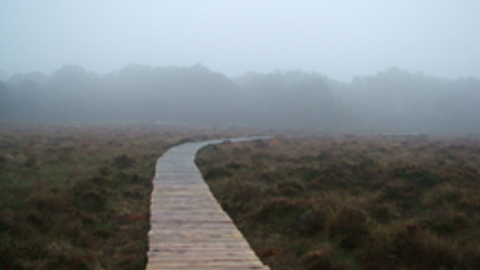 Sphagnum, sundew and other unusual plants create a colourful carpet on this raised mire. Rich in invertebrate life myriads of butterflies, moths, dragonflies and damselflies are seen.
Know before you go
Grazing animals
Cattle at times
Walking trails
A path leads from the car parking area to the open mire (1 km/0.6 miles return trip) with information boards along the route. The path is fairly level and involves sections of boardwalk, wood-chip and unsurfaced path.
Access
Fairly level path with board walk
When to visit
Opening times
Open at all times.
Best time to visit
April to August
About the reserve
What is happening at Meathop Moss? This nature reserve is an internationally rare lowland raised peatbog. High and stable water levels are essential to the health and long term future of the bog. Unfortunately this bog has suffered in the past from a steady lowering of water levels and a gradual deterioration of the peatland and its wildlife. In partnership with Natural England, the Trust has been carrying out significant habitat restoration works which aim to raise water levels and secure the long term future of the Moss. Conifer trees have been removed from around the edges as they have served to dry the peat and excavator have worked to block drains and create small low bunds that retain water on the bog. We are aware that this work and rising water levels have caused some disruption to access routes onto the Moss. It was necessary to remove sections of boardwalk for instance and rising water levels have made the normal access route unusable. We have therefore installed temporary safe access onto the reserve at present and ask you to take care when entering onto the Moss. We are also now in the planning phase of creating and installing new access routes, walkways and signage and hope that these will be completed in the near future. The Trust thanks you for your patience and hopes you enjoy your visit to this wonderful and unusual nature reserve. The moss Sphagnum mosses, cotton grass, bog rosemary, bog asphodel, cross-leaved heath and sundew create a colourful carpet on the bog surface. Over thousands of years, dead plant material forms peat and the bog grows, however peat formation ceases if the bog becomes too dry. Rich in insects In May and early June green hairstreak butterflies and emperor moths can be seen. The uncommon large heath butterfly flies from late June to early August. Another day-flying moth, the northern eggar is also active at this time. The caterpillars of this species are black and orange and very hairy. The uncommon bog bush cricket and a variety of dragonflies and damselflies also occur. Over 200 species of butterfly and moth have been recorded. Other animals Snipe, stonechat and tree pipit are often seen on the open moss. Red and roe deer, and adder are also present on the nature reserve. Keeping it special Management at Meathop Moss is aimed at retaining as much water as possible on the bog to enable peat formation to continue. This involves removing trees and blocking any drainage ditches. The Trust has also purchased some of the adjacent farmland and raised water levels here. The nature reserve was purchased by the Trust in 1998 with help from the Heritage Lottery Fund. Getting here By car:  From A590 take the minor road signed for Ulpha. Approx 0.9km/0.5 miles from the junction just before High Stock Bridge park in the layby on right hand side where track to moss leads off the road. Follow the track along edge of field to get onto reserve. By bicycle: The reserve is on National Route 72 (Walney to Wear)/Regional Route 30. By public transport: Buses run from Barrow in Furness, Ulverston, Newby Bridge, Grange over Sands and Kendal to Witherslack.
Environmental designation
Site of Special Scientific Interest (SSSI)
Special Areas of Conservation (SAC)