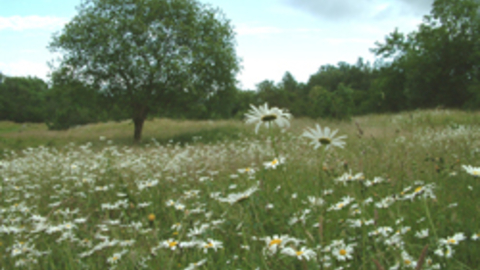 This small reserve, a mix of grassland, woodland and scrub has a surprising variety of plant species. It is a haven for insect life.
Know before you go
Grazing animals
Cattle at times
Walking trails
The reserve is crossed by a public bridleway and has access direct from the former A590, where there is ample parking. The bridleway can be used to make a short circular walk around the reserve (0.5km/0.3 mile). Paths are unsurfaced and steep in places. There is a seat overlooking the main grassland area.
Access
Unsurfaced paths. Steep in places.
When to visit
Opening times
Open at all times
Best time to visit
April to July
About the reserve
Highlights Visit in spring to see fantastic display of cowslips and early purple orchid. In summer orchids are in flower and butterflies are on the wing. In autumn golden rod and devil's-bit scabious  are flowering and you can still see butterflies. In winter redwing feed on berries while flocks of tits, nuthatches and treecreepers are around. Small reserve- amazing variety Despite its small size, Latterbarrow is home to an amazing variety of plants with over 200 species recorded. This is partly due to the underlying limestone rock and partly due to the mosaic of grassland, woodland and scrub that has developed as a result of past and current management. Ash and hazel woodland covers about half of the nature reserve. Yew and the rare Lancastrian whitebeam are particular features of limestone woodland in the area. Succession of wildflowers Throughout the summer, the open grassland areas are a delightful succession of flowers.  In May you can see early purple orchid and cowslip in flower.  These are followed in June greater butterfly and fragrant orchids.  Look two for the tiny fly orchids.  During June and July the nature reserve is at its most colourful with wild columbine and ox-eye daisy, followed by common rockrose, agrimony and betony.In the autumn, devil's-bit scabious and golden rod are in flower. On the wing The abundant nectar and habitat diversity also make the nature reserve a haven for insect life. The brimstone butterfly is one of the first to be seen in spring. It over-winters as an adult emerging on warm days from February onwards. Early in the summer you might also see northern brown argus, and later silver washed and dark green fritillaries.  Later in the summer red admiral, peacock and brimstone butterflies can be seen feeding on the nectar rich plants such as common knapweed. Small mounds in the grassland are nests of the yellow meadow ant. These can be quite old and are often covered in thyme, rockrose and other plants. Keeping it special We manage Latterbarrow by grazing with cattle to maintain the diverse grassland and the mosaic of habitats. By varying the timing of grazing, it is hoped to allow flowers to periodically set seed whilst keeping scrub and bramble in check. We also aim to increase the area of limestone grassland through targeted tree felling and scrub removal. Latterbarrow was purchased in 1986 with help from the Lake District National Park. Getting here By car: From the A590 take the turning signposted Witherslack.  Pass the Derby Arms and turn immediately left onto the former A590.  The reserve entrance lies about 0.3km/0.2 miles along the old road, where a bridleway is signposted to the right. By bicycle: The reserve is on National Route 72 (Walney to Wear)/Regional Route 30. By public transport: Buses run from Barrow in Furness, Ulverston, Newby Bridge, Grange over Sands and Kendal to Witherslack
Environmental designation
County Wildlife Site