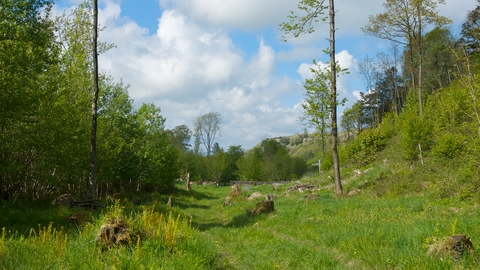 Ancient woodland with exceptionally rich and interesting range of flowering plants. Coppice management benefits several species of butterfly and part of the nature reserve is a traditional orchard with Westmorland damson and apple trees.
Location
Know before you go
Entry fee
All donations are gratefully received.
Parking information
Park where a public footpath leaves the road on the right-hand side.
Bicycle parking
No
Grazing animals
No
Walking trails
From the nature reserve entrance, the main path goes as far as the orchard (0.7km/0.4 miles). There is no circular route and visitors must return along the same path (2.8km/1.6 miles total).
Access
Howe Ridding Wood is 0.7km/0.4 miles from a public road and is accessed via a public footpath.  The path can be muddy and has some steep sections.
When to visit
Opening times
Open all year round
Best time to visit
April to August
About the reserve
Wildlife highlights
Spot birds such as buzzard, raven, sparrowhawk, woodcock, redstart and nuthatch.
You might spot both roe and red deer.
Pearl-bordered, high brown and silver-washed fritillary butterflies.
Discover wild daffodils and dark red helleborine and other unusual plants such as green hellebore and herb-paris.
In spring - see wild daffodil and bluebell, damson and apple blossom and pearl bordered fritillary butterfly. 
In summer -  The coppice woodland provide good habitat for butterflies including pearl-bordered and high brown fritillary.
In autumn - the damsons and apples are ripening in the orchard.
Ancient woodland
Howe Ridding Wood is the most northerly part of Witherslack Woods, a large expanse of ancient woodland on the western side of Whitbarrow Scar.
Much of the nature reserve overlies the same Carboniferous limestone which forms the Scar.
The western edge of the wood is on the boundary of the limestone and the Silurian shale and Calf Close Wood, which overlies the shale, is a total contrast to the rest of the nature reserve with oak, birch and alder the dominant tree species. Bluebells are more numerous here.
What makes Howe Ridding Wood so special?
Nationally rare Lancastrian whitebeam clings to the cliffs and screes, whilst small-leaved lime is found on terraces alongside the more common ash, oak and birch trees that tower over the delicate ground flora.
Rare plants such as dark-red helleborine, hoary rock-rose, mezereon and rigid buckler-fern are found here.  Look out for green hellebore, wild daffodil and herb-paris.
Traditional orchard
A small traditional orchard at the northern end has been replanted with Westmorland damson and apple trees.
Keeping it special
Traditionally, the woodland would have been coppiced and this was reintroduced in 1994. By allowing sunlight to the woodland floor, plants are encouraged to flower, which benefits a number of butterfly species.   
The newly coppiced plots have to be temporarily fenced to keep out the deer to allow the trees to re-grow.
Recent history
The nature reserve has been leased to the Trust by Natural England since 1998.
Getting here by car:
From A590 take road signposted for Witherslack. Follow this through  the village, past Witherslack Hall  (now Oversands School) and continue for a further 1.5km/0.9 miles. Park where a public footpath leaves the road on the right-hand side and follow the path through the woods for 0.7km/0.4 miles until the reserve is reached.
By bicycle:
The reserve is 5km/3 miles from National Route 70 Walney to Wear (W2W).
By public transport:
Buses run from Barrow-in-Furness, Ulverston and Kendal to Witherslack.
Species
Environmental designation
National Nature Reserve (NNR)
Site of Special Scientific Interest (SSSI)
Special Areas of Conservation (SAC)
Upcoming events at Howe Ridding Wood Nature Reserve
If there are any upcoming events at Howe Ridding Wood Nature Reserve we'll show them to you below.