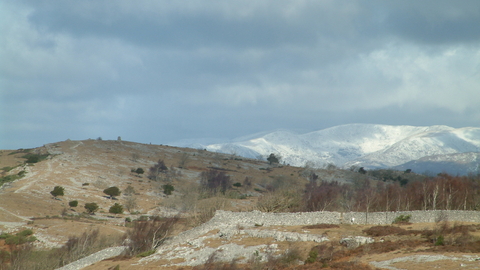 Whitbarrow - Hervey Memorial Reserve
With stunning views of the Cumbrian fells and Morecambe Bay, this is a great place to walk and explore. Rich in wildflowers and butterflies.
Know before you go
Grazing animals
Rare breed cattle and sheep
Walking trails
Access on public footpaths from Witherslack Hall School and North Lodge involves a fairly steep climb. Access from the east has more gentle gradients. Access from any direction involves a walk of at least 1km/0.6 miles before the reserve is reached. Once on the reserve, the terrain is less steep and a circuit linking the two public footpaths provides a walk of approximately 2.75km/1.7 miles.
Access
Steep climb from the west. Unsurfaced public footpaths on reserve
When to visit
Opening times
Open at all times
Best time to visit
April to August
About the reserve
Highlights In spring limestone flowers such as early purple orchids, hoary rock rose and blue moorgrass. Brimstone and pearl bordered fritillary butterflies. In summer fritillary butterflies and plants such as dark red helleborine. Skylark and wheat ear too. Autumn find heather in flower, roe deer and wax cap fungi. Winter flocks of fieldfare and redwing feeding. All year - fantastic views, limestone pavement and rarebreed cattle and sheep grazing. Limestone flowers Did you know that the blue moor grass, common on Cumbrian limestone, only grows in a few places in the UK. Whitbarrow Scar is made up of Carboniferous limestone, laid down over 350 million years ago.  Limestone is exposed on the nature reserve as a series of limestone pavements, low crags and scree. Very thin soils over much of the site provide ideal growing conditions for a variety of plant species.  In spring hoary rock-rose, primrose, cowslip and early purple orchid are flowering.  Later in summer dropwort, birdsfoot trefoil, lesser meadow rue, limestone bedstraw and thyme are flowering.  Look out especially for the striking spikes of dark red helleborine . Shelter in the limestone pavement The limestone pavements provide sheltered places for a range of unusual plants to thrive. You might find hart's-tongue fern, rigid buckler-fern, hard shield-fern or  limestone polypody which are all abundant here. Between the limestone pavements, thicker soils allow heather and bracken to grow. Scattered ash, birch and juniper add to the habitat mosaic of this fascinating place. Great for butterflies The nature reserve has a rich invertebrate fauna. In summer you may see four species of fritillary butterfly: high brown, dark green, pearl-bordered and small pearl-bordered, which all breed here.  Look out also for northern brown argus, grayling, common blue and small heath butterflies.  Other animals Breeding birds include meadow pipit, both green and great spotted woodpecker and redstart. Roe, and occasionally red deer, are seen on the nature reserve. Keeping it special The nature reserve occupies 100 hectares on top of the Scar and includes the summit cairn. The enclosure, also known as Flodder Allotment, was created in the 19th century as a result of the Enclosure Acts. Light year-round grazing with sheep and cattle has been re-introduced to maintain a mosaic of habitats. A small part of the nature reserve is owned by Cumbria Wildlife Trust and the remainder is held on a long lease from the Argles family. The nature reserve was established in memory of Canon A K Hervey, a founder member of Cumbria Wildlife Trust. Getting here By car:  From the A590 take the road signposted for Witherslack.  Follow this through the village and then for a further 2km north until you reach Witherslack Hall.  Turn right onto the rough track to park. Follow the footpath accross the field and up the scar to the reserve.  A more gentle approach is possible from The Howe or Row off the A5074, however, parking here is limited. By bicycle: The reserve is 3.3km/2 miles from Regional Route 30. By public transport:  Buses run from Barrow in Furness, Ulverston and Kendal to Witherslack.
Environmental designation
National Nature Reserve (NNR)
Site of Special Scientific Interest (SSSI)
Special Areas of Conservation (SAC)