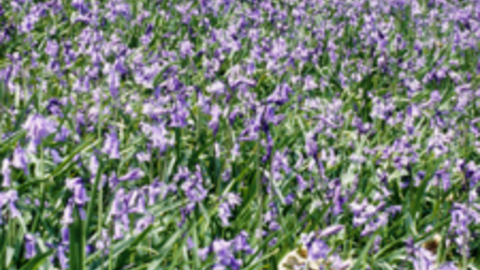 Dorothy Farrer's Spring Wood
This upland oak woodland is rich in mosses, ferns and liverworts. Bluebells and wild garlic carpet the wood in the spring and both pied and spotted flycatchers and redstarts are seen.
Know before you go
Grazing animals
No
Walking trails
The reserve lies approximately 100m from a public road and is reached by a public footpath crossing a field which can be muddy. Each of the three woods has a circular route and these can be linked to make a walk of 1.2 kilometres/0.8 miles. The paths are steep in places with steps on the steepest sections.
Access
Steep paths with steps in places.
When to visit
Opening times
Open at all times
Best time to visit
April to July, September to November
About the reserve
Highlights Fantastic carpets of bluebells and other spring flowers In spring and early summer the reserve is alive with birds This is a particularly rich reserve in ferns, mosses and liverworts Woodland industry Dorothy Farrer's Spring Wood is made up of three separate areas of woodland: High Wood, Dorothy Farrer's Spring Wood and Beddard's Wood.  These three areas have been managed as coppice woodland in the past.  Timber from the coppicing was used for bobbins, swill baskets and charcoal. You can find evidence of charcoal production in pit steads which are level platforms on which charcoal kilns were built.  There are at least five of these around the nature reserve. Coppicing ceased in the 1940s but was restarted in Dorothy Farrer's Spring Wood by the Trust in 1989. Exclusion of deer has produced excellent coppice re-growth. Carpets of spring flowers The main tree species on the reserve is oak, but you will also find ash, hazel, elm and alder. Spring is a great time to visit when bluebells carpet much of the woodland floor, and you can see patches of wild garlic, early purple orchids and the scarcer herb paris. Coppicing has produced a profusion of other wildflowers including violets, bramble and foxglove. The damper north-facing areas of high Wood are particularly good places to seek out ferns, mosses and liverworts.  Alive with birds Bird watchers will appreciate the nature reserve in spring and early summer when you might expect to see or at least hear pied and spotted flycatcher, redstart, willow warbler, blackcap, great spotted woodpecker, nuthatch, treecreeper and buzzard. Keeping it special The original area was given to the Trust in 1969 by the Nicholson family. High Wood was purchased by the Trust in 1994 with the help of Trust members, and Beddard's Wood was given to the Trust in 2000 by Mrs Anne Beddard. Getting here By car: Access is from the minor road between Staveley and Burneside. From Staveley take the road signed to Kentmere. At the Kentmere Paper Factory turn right over the bridge signed for Burneside. Follow the road for 1km/0.6 miles. Park in the layby and follow the footpath to the reserve entrance. By bicycle: The reserve is 1.6km/1 mile from National Route 6 (Greenwich to Keswick). By public transport: Trains run from Kendal and Windermere to Staveley. Buses run from Kendal, Windermere and Ambleside to Staveley. Nature Reserves Guide Cumbria Wildlife Trust's Nature Reserve Guide, which provides information about all the Trust's reserves is available to buy now from our online shop.
Environmental designation
Local Wildlife Site (LWS)