Workington teenagers get a buzz out of helping bees
Youth charity creates mural to boost pollinating insects in West Cumbria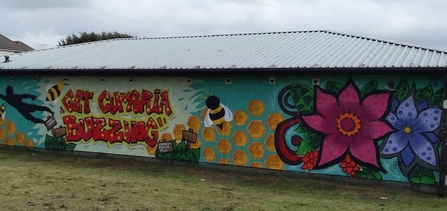 A group of eight young people in Workington have transformed the plain walls of a sports changing room on the edge of their local football pitch into a riot of colour, to help bees.
The Young Cumbria youth project have used their artistic skills to produce a dramatic mural to celebrate #Get Cumbria Buzzing, our project to boost the declining number of pollinating insects across North and West Cumbria.
Tanya St.Pierre, Project Manager for Get Cumbria Buzzing said: "This is a fantastic mural – a huge thanks to Young Cumbria who have done an amazing job creating this street art in Salterbeck, south Workington. It looks good and is a great way to raise awareness of our project which is all about helping bees and other pollinators in north and west Cumbria.
Tanya explained: "Pollinating insects are in trouble. More than half of UK bee, butterfly and moth species have declined in the past 50 years, and 30 species of bee face extinction. Youth groups, schools and communities from Workington and Whitehaven up to the Solway Coast have got on board and are busy planting flowers to help these precious pollinators. Huge thanks to everyone involved!"
Ian Alcock, Project Worker at Young Cumbria said: "We're supporting Get Cumbria Buzzing as we wanted to raise environmental issues with the young people in our charity. Last year they created a mural about pollinators at the Florence mine in Egremont which they really enjoyed, and they followed it with this mural in Salterbeck." 
Ian continued: "We work with young people who are either deemed to be at risk, or live in an environment which places them at risk of achieving poor outcomes and we find that street art is a great way to start engaging with them, and exploring a whole range of issues."
Sarah Boyle works for Impact Housing Association, which owns the changing room building. She said: "We'd like to thank all of the young people for their hard work and dedication that they have put into the fabulous mural. We are delighted with the end result; not only does it raise awareness about the importance of helping bees and other pollinators but it is a fabulous way for young people to come together in the community and learn new skills."
Julian Smith,  Parks and Open Spaces Officer for Allerdale Borough Council, said: "The mural is a fantastic way to raise the profile of what we're aiming to achieve through Get Cumbria Buzzing. Over the coming weeks and months work will be taking place on a number of sites in Workington, starting with the creation of new pollinator-friendly habitat at Shore Road, the slag banks at Derwent Howe and Oldside.
Julian explained that specially designed seed-mixes will be used on these sites including kidney vetch and bird's-foot trefoil, the preferred food plants for caterpillars of declining species of butterfly such as the small blue and dingy skipper. 
Allerdale  Borough Council is also working with Get Cumbria Buzzing in Workington, and will shortly be starting work on a nearby site at Shore Road, next to Salterbeck Pond, creating new flower-rich grassland which will provide valuable new habitat for a range of pollinating insects.
Get Cumbria Buzzing aims to get parks, school grounds and other green spaces around north and west Cumbria buzzing with bees and pollinators.
The ground-breaking, three-year project will also see Cumbria Local Nature Partnership work with Highways England and Cumbria Wildlife Trust to get local people buzzing with activity to boost numbers of bumblebees and other wild pollinators and halt their decline.
To deliver this project Cumbria Local Nature Partnership and  Cumbria Wildlife Trust have brought together a wealth of experience including Allerdale Borough Council, Buglife, Butterfly Conservation, Copeland Borough Council, Cumbria Biodiversity Data Centre, Florence Arts Centre, Highways England, National Trust, Solway AONB and Workington Nature Partnership.
This £1.6 million project has been made possible by National Lottery Players and support from the National Lottery Heritage Fund, Highways England, Cumbria Waste Management Environment Trust, Rees Jeffreys Road Fund, Tesco, Allerdale Borough Council and Solway Coast AONB.
Administered by Cumbria Community Foundation, the following organisations have also funded the project: Fairfield Wind Farm Community Benefit Fund, Robin Rigg West Cumbria Fund, Winscales Moor Community Benefit Fund and United Utilities Legacy Fund.