97% of species-rich habitat lost in just 75 years
30 species of bees facing extinction
Help create havens for bees, butterflies and other pollinators
North West Cumbria is home to an amazing variety of wild pollinators including bumblebees, hoverflies, solitary bees, butterflies and moths.
Pollinators maybe tiny but their impact is huge. Fundamental to the web of life, pollinators help provide one third of the food we eat, pollinate more than 80% of our flowering plants and contribute around £690 million a year to the UK economy.
We are delighted to announce our Get Cumbria Buzzing short animation film has been shortlisted in this year's Charity Film Awards. Pollinators urgently need our help and this fim shows how easy it is to make a difference.
We need your votes! Please click the link below and follow the instructions on screen.
Pollinators are struggling and need our help.
Our wild pollinators are in trouble. More than half of UK bee, butterfly and moth species have declined in the past 50 years, and 30 species of bees face extinction. Over the last 75 years we've lost 97% of our flower rich meadows, 50% of our hedgerows, and 60% of flowering plants are in decline.  
This is largely due to the intensification of agriculture, the increased urbanisation of our villages, towns and cities, and the construction and expansion of major road networks. Much of the remaining flower rich habitat on which our pollinators depend, is now seriously fragmented or degraded.   
To combat this loss, we're working with local communities, and we have joined forces with Highways England and a wide range of partners to take action for pollinators across North West Cumbria.
Our partners include: Copeland Borough Council, Allerdale Borough Council, Solway Coast AONB, Butterfly Conservation, Buglife, Cumbria Biodiversity Centre, Highways England, Workington Nature Partnership, National Trust and Florence Arts Centre.
Together, we will create 115 hectares of wildflower rich habitat across North West Cumbria to help boost pollinators - that's an area half the size of Maryport. 
We plan to create pollinator friendly havens at 62 sites in North West Cumbria along pollinator pathways known as 'B-lines'. Researched and mapped by Buglife, B-Lines are a series of 'best fit' pathways that run through our towns and countryside and have the potential to link fragmented habitats.
This project aims to provide vital stepping stones of flower rich habitat. These stepping stones will enable our wild pollinators to move freely along the B-lines network across North West Cumbria.
Take a look at the planned network for pollinators below: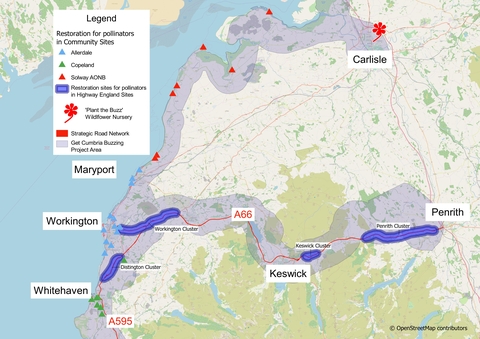 Using innovative techniques, we will provide a diverse range of habitats along the A66 and A595 Strategic Road Networks. This will include short flowering lawns, flower rich grassland, sunny banks, glades, and tussocky areas for overwintering refuge. Important pollinator plants such as goat willow, devil's-bit scabious, clovers and trefoils will help provide forage from spring to autumn.
Join us to #GetCumbriaBuzzing - By spreading the word and encouraging everyone to grow pollinator friendly plants, together we can make a real difference.

Simple actions you can take today: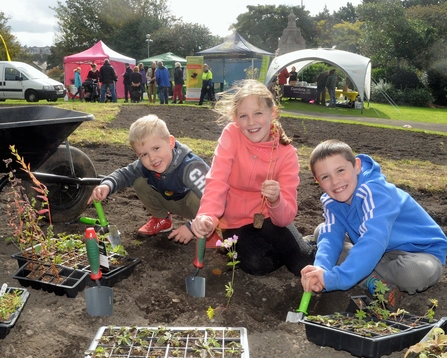 Join the 'Buzz' events
Pollinator themed arts and craft

Walks

Family fun

Identification training

Volunteering conservation days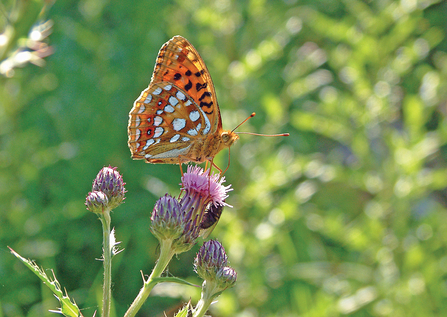 Donate to Help Pollinators
Your donation will help restore and create diverse habitats for our pollinators.
Thank you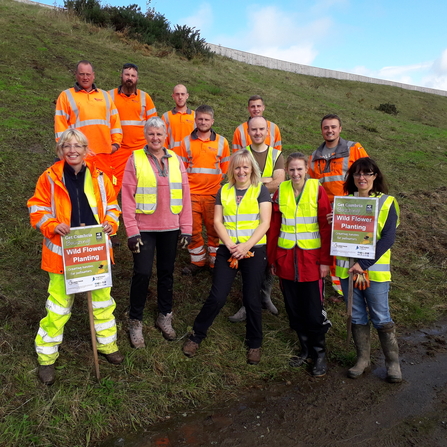 Become a 'Buzz' volunteer
We need your help restoring 115 hectares of habitat for pollinators.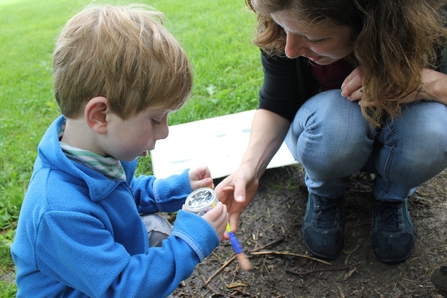 Record the 'Buzz'
Have you seen a bee, butterfly, hoverfly, wasp, fly or moth? We'd love to hear from you.
Your sightings will give vital information on pollinators across Cumbria. They'll be added to the Cumbria Biodiversity Data Centre database, providing county and national records.
Download our free Wild Bee Spotter Sheet for pollinator identification tips by clicking the link below (PDF)
Download our free Help Bees Action pack for simple tips to help pollinators by clicking the link below (PDF)
Why are flower rich havens positive for people, pollinators and other wildlife?

Flower rich grassland is prime pollinator habitat. However, since the 1940s, ninety-seven per cent of flower rich grassland has been lost and sixty per cent of wildflowers are in decline. 
As little as 1-2% of flower rich habitat – even a garden or park – is enough to have a significant impact on populations of wild bumblebees. Small increases in flowering plants in spring and summer can have a big effect, raising the survival rate of queen bumblebees up to four times.
A mix of long grasses and nectar rich flowers provide food and shelter for pollinators.
Not so tidy but full of life, tall grasses and other 'wilder' habitats provide vital food, shelter and overwintering refuge for many of our bumblebees, butterflies and other insects.
Wildflowers and other nectar rich flowers bring colour to our roads, housing estates and greenspaces.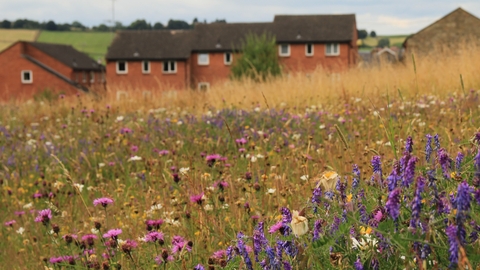 What's the potential of roadside verges for pollinators?

More than 700 species of wild plants are known to exist on our roadside verges. Therefore, roadside verges are a vital refuge for our wildflowers and a valuable resource for pollinators, but to maintain them they need our care and attention.
Road verges have the potential to become valuable corridors of habitat for our butterflies, bees, and other pollinators to travel through the landscape especially in urban or intensively farmed areas.
As well as being an important wildlife refuge, roadside verges bring colour to our everyday lives, brighten up our commute to work and every day travel, and help us connect with nature. 
For the 155,000 people commuting to work by road every day in Cumbria, road verges can be their only daily contact with nature. Too few people living in deprived and urban areas have easy access to wildlife. 
Managed correctly verges not only have the potential to support healthy populations of pollinators and increase biodiversity, they also capture carbon, improve air quality, help regulate the climate, reduce flood risk and noise, and bring colour to the roads.
Click below for more information about Highways England's biodiversity plan, environment strategy and funding: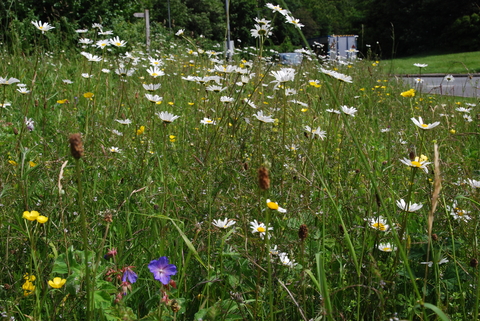 Meet our 'Get Cumbria Buzzing' team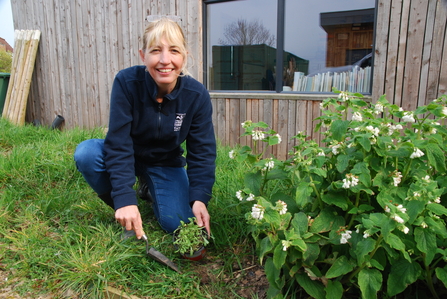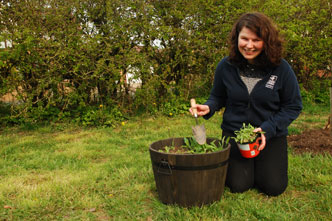 We would like to say a massive 'thank you' to our funders:
The National Lottery Heritage Fund, Highways England, Allerdale Borough Council, Solway Coast AONB, Cumbria Waste Management Environment Trust, Tesco, Rees Jeffries Road Fund and Cumbria Local Nature Partnership.

Administered by Cumbria Community Foundation, additional funders include Robin Rigg West Cumbria Fund, Fairfield Wind Farm Community Benefit Fund, Winscales Moor Community Benefit Fund, and United Utilities Legacy Fund,
Developed by Cumbria Local Nature Partnership, and delivered by Cumbria Wildlife Trust, Get Cumbria Buzzing is a partnership project that includes the following organisations: