New funding will transform former golf driving range into a wildlife haven
A former golf course and driving range in Carlisle city centre will become the very first urban bee and butterfly oasis in the North West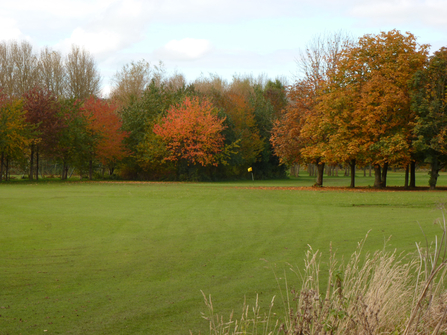 This is fantastic news for Carlisle, for both its residents and its pollinating insects! This funding will make a huge difference, creating a real wildlife oasis in the heart of the city.
The Swifts, a 17-hectare site in the centre of Carlisle, which includes grassland, woodland and river banks, will be transformed into a wildlife haven, thanks to £80,000 funding from Cumbria Waste Management Environment Trust (CWMET) and £8,000 from the Environment Agency. The site was previously a golf driving range and since it reverted back to Carlisle City Council in 2018, it has been managed as a publicly-accessible green space.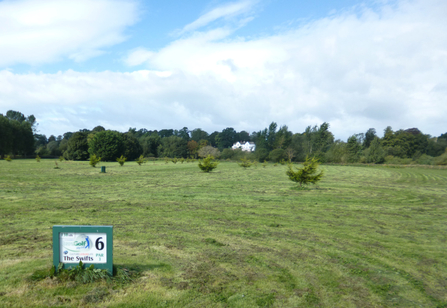 The funding will breathe new life into the site, transforming once manicured greens and fairways into wildflower meadows, species-rich wetland and native woodland, helping to boost populations of bees and butterflies.
With improved access and signage, and within close walking distance of Carlisle city centre, the site will be an oasis for wildlife and people alike. Cumbria Wildlife Trust secured the funding and working in partnership with Carlisle City Council, the restoration works will complement Get Cumbria Buzzing. This project, which is supported by the National Lottery Heritage Fund, aims to create and link pollinator habitat across northwest Cumbria.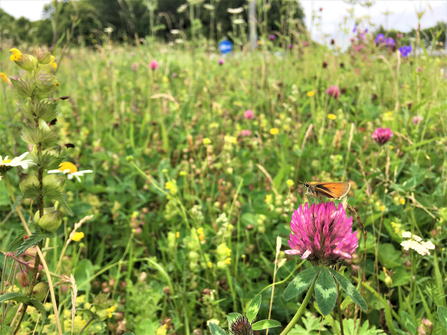 Tanya St.Pierre, Get Cumbria Buzzing Project Manager said: "This is fantastic news for Carlisle, for both its residents and its pollinating insects! This funding will make a huge difference, creating a real wildlife oasis in the heart of the city. It's important because our wild pollinating insects are in trouble. More than half of UK bee, butterfly and moth species have declined in the past 50 years, and 30 species of bees face extinction. Over the last 75 years we've lost so much of their habitat: 97% of our flower rich meadows, 50% of our hedgerows, and 60% of flowering plants are in decline. The Swifts site will help combat this loss in north west Cumbria, by restoring lost, species-rich meadows and woodlands. And it's not only pollinators who will benefit, but local communities as well: we'll all be able to enjoy the calm refuge of this wildlife haven in the middle of the busy city."
Helen Squires, Grants Manager for Cumbria Waste Management Environment Trust said: "We are pleased to support an environmental project within Carlisle City. The project will create a natural environment for several species, including pollinating bees. It will also allow public access to a green space within walking distance of the town centre. The project meets two objectives of improving the natural environment and also the social environment."
Nigel Christian, Carlisle City Councillor and portfolio holder for Environment and Transport, said: "The Swifts has been in the ownership of Carlisle City Council since the early 1930s and has been managed as a recreational area ever since. Previously, the former flood meadows have been used for horse race meetings and served as an army camp, overflow hospital and munitions workers' hostel. The site even briefly played host to a factory producing chocolate!
"I am delighted with this exciting new future for The Swifts. These 17 hectares (42 acres), which link with other green spaces in the city and have the Hadrian's Wall National Trail following the river along one side, lend themselves to being an urban wildlife site. These ecological improvements will give the site new purpose with tangible benefits to wildlife and the environment, as well as being a place for people to roam and explore nature right in the heart of Carlisle. I am very grateful to all who worked to bring this project to fruition and very much look forward to seeing the ecological improvements in place."
Rachel Crosher, Senior Environmental Project Manager, with the Environment Agency said: "Over the past six months we've rediscovered how vitally important our relationship with nature is. The Environment Agency are working with Carlisle City Council to provide environmental enhancements within the city, for example redevelopment of an area of Bitts Park, adjacent to the tennis courts, which is being enhanced into a shared space for people and wildlife, as are improvement works to The Swifts green space. The Swifts is a tremendous example of how we can work together to make a real difference to the environment around us, and it's a tribute to all the agencies and individuals involved. Carlisle has a remarkable wealth of green spaces and making the most of them is an important part of our drive to leave our environment in better shape than we found it for future generations"
The works at The Swifts will start this autumn and be completed by November 2021.