We're launching an appeal to kickstart nature's recovery
The Wildlife Trusts launch 30 by 30, a public appeal to raise £30 million to start putting nature into recovery across at least 30% of land and sea by 2030.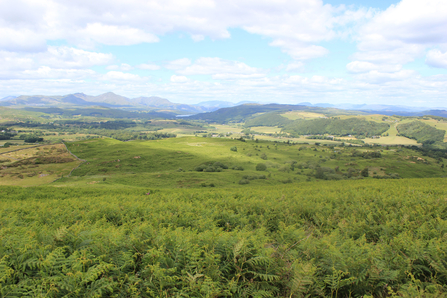 Nature has suffered serious declines for decades with 26% of UK mammals in danger of disappearing altogether and hedgehogs, red squirrels, bats, turtle doves, cuckoo, water voles and basking sharks all at risk. It is not only individual species that are threatened; the collapse in the abundance of nature also means many of our ecosystems are not functioning as they should.
Lack of wild places and fragmentation of those that remain has had a disastrous effect. Only 10% of land is protected and dedicated to wildlife in the UK and much of this is in poor condition. That's why The Wildlife Trusts recently called on Government to introduce a new landscape designation for England called 'Wildbelt.' This would be for the purpose of putting land into nature's recovery, such as through the creation of wildlife corridors, natural regeneration of woodland, restoration of wetlands, and rewilding.
Stephen Trotter, CEO of Cumbria Wildlife Trust says: "Here in Cumbria we calculate that just 15% of land is managed for nature – that includes our own nature reserves and the other designated Sites of Special Scientific Interest elsewhere in Cumbria.  While this is slightly above the national average, we still have a long way to go to reach the target of 30 by 30. 
"Most of Cumbria's 15% of land 'managed for nature' has SSSI status but only around 1 in 5 of these legally protected sites is in good condition – nearly four-fifths are unsatisfactory and don't meet Government standards.
"At sea the picture is different. While large areas appear to be protected, harmful practices are still allowed across designated sites – such as construction, dredging and bottom trawling (fishing) that destroys seabed habitats. That's why The Wildlife Trusts are calling for Highly Protected Marine Areas where these practices would be banned.
"Funds raised by new 30 by 30 appeal will go towards nature recovery projects that will help us put new land aside for nature, as well as repair and link-up existing, fragmented, wild areas to enable wildlife to move around. The aim is to bring nature everywhere, including to the places where people live."
Everyone can play their part in helping bring back our wildlife - please join us in this campaign.

CEO, Cumbria Wildlife Trust
One of our projects to bring nature to more people is at Smardale Nature Reserve near Kirkby Stephen. These steep, wooded slopes are home to an important population of rare red squirrels. The nature reserve has recently been extended, and we plan a new and specialist feeding station to give visitors better views of these iconic animals. For those who can't visit the nature reserve, we want to put up a new webcam, so people can enjoy watching red squirrels from online and at home. We also want to create family trails, offering a chance for younger visitors to develop a passion for nature, with 'wild' backpacks to borrow, packed for a day's wildlife adventure.
Among our newer nature recovery projects is a 106ha site at Lowick Common near Ulverston, as Stephen explains:
"Two years ago we took on the care and restoration of a large piece of land at Lowick. It's very special because of the lowland heath, acid grassland and fen areas found here – they're  all rare, both in Cumbria and nationally, having declined in the last century. They provide important habitats for specialist species, including small pearl-bordered fritillary butterfly and reptiles such as slow worms and adders.
The ponds are home to the medicinal leech -  one of the few places in Cumbria you can find these water-based, blood-sucking animals – as well as great-crested newts and 15 species of dragonfly and damselflies. In the trees and shrubs you can find redpoll, spotted flycatcher and yellow hammer.
We'll be monitoring and surveying these species, to see the results of the management work that we carry out here. The site was dominated by bracken, which was shading out plants and birds, and invasive plants were covering paths, impeding visitor access.  Working with local volunteers, we'll tackle these problems, to ensure that the site remains a wildlife haven for these specialist species and for future generations to enjoy."
Stephen concludes: "The next 10 years must be a time of renewal and recovery of the natural environment, of rewilding our lives, of green recovery. We all need nature more than ever and when we succeed in reaching 30 by 30, we'll have wilder landscapes that store carbon and provide on-your-doorstep nature for people too. Everyone can play their part in helping bring back our wildlife - please join us in this campaign."