Volunteers help save our precious meadows
Monitoring and surveying training events for volunteers will help our species-rich meadows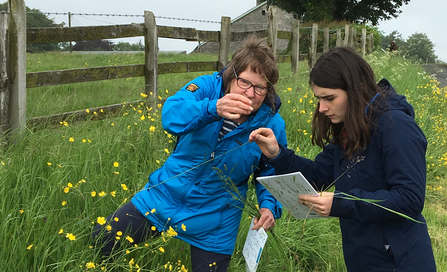 Hay meadows can provide habitats for many different and much-loved species including brown hare, great yellow bumble bee, skylark, curlew and lapwing.
Over 30 enthusiastic volunteers have taken part in recent training events to learn how to survey the county's hay meadows. We ran the events in collaboration with partner organisations, as part of Meadow Life, which aims to restore Cumbria's fantastic hay meadows.
A group of 12 volunteers on the Westmorland Dales Landscape Partnership (a Heritage Lottery-funded project) braved some inclement weather in Orton to refresh their meadow plant ID skills. The course, led by Stuart Hedley, a lifelong field botanist, will enable them to monitor the county's hay meadows.  
A visit to the Smardale Nature Reserve County Wildlife Site at Newbiggin-on-Lune gave another group of volunteers the chance to update their plant identification skills in the species-rich grassland found here. We are monitoring a number of grassland County Wildlife Sites within the Yorkshire Dales National Park and the group was able to learn about the Local Site System in Cumbria, thanks to funding from the Wildflower Society and the Yorkshire Dales Millennium Trust (Westmorland Dales Hay Time project).
In the south of the county, at a Meadow Life training event held at Plumgarths near Kendal, our former Director and experienced botanist Peter Bullard brought to life the differences between the main families of grasses. One of the volunteers enthused afterwards: "I really enjoyed it. Peter is a fantastic teacher - he explains things really well and covers enough to give a great overview, but not too much to make my brain hurt."
Christa Nelson, Grassland Conservation Officer explained why events like this are so important: "Fields of gently waving grasses splashed with purple, yellow and white flowers evoke sleepy summer images. However, across Britain 97% of hay meadows were lost between the 1930s and the mid-1980s. We're working closely with farmers in Cumbria and partner organisations to try and reverse this damage and offering training and awareness-raising is an important part of our work."
Christa continued: "Saving our hay meadows is important as they can provide habitats for many different and much-loved animal species including the brown hare, insects such as the great yellow bumble bee, and birds such as skylark, curlew and lapwing."