Visitors reminded that nesting birds at South Walney need peace
Trust urges visitors not to disturb important wildlife on nature reserve, especially as nesting season begins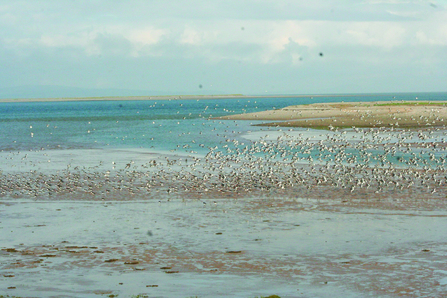 At this time of year, a wonderful array of birds are preparing to nest at South Walney Nature Reserve near Barrow. They include Arctic terns, oystercatcher, eider duck, ringed plover and lapwing, as well as skylarks and meadow pipits. It's what makes this coastal nature reserve so special and popular. But they are ground-nesting birds and therefore really liable to disturbance.
Sarah Dalrymple, Reserves Officer at South Walney Nature Reserve has an important message for all those wanting to visit the nature reserve: "We're so lucky to have this fantastic variety of incredibly important wildlife, much of which is threatened and in decline. That's why we have restrictions in place on the nature reserve, specifically to protect the birds. It's the only place on Morecambe Bay where access is restricted like this.
"Sadly, we've had reports of lots of visitors at South Walney straying off the clearly-marked paths and also bringing dogs on to the site, which is not allowed (apart from assistance dogs).  I want to tell visitors to South Walney that they are welcome to come and walk here for their daily local exercise, but I urge them to please keep to the paths and do not bring dogs. Even a very well-behaved dog on a lead will scare birds away from their nests! These wonderful nesting birds need peace, and recent disturbance from people and their dogs is in danger of seriously threatening this year's nesting season."
Please note in line with Government guidance, the visitor centre and hides at South Walney Nature Reserve are closed until further notice, but the car park and toilets are open. Our new seal and bird-watching shelter is open - it's next to Braithwaite Hide. If you are visiting the nature reserve, please follow social distancing guidelines.
Please note that only assistance dogs are allowed at South Walney Nature Reserve.