A rare close-up glimpse of the Foulshaw Moss osprey chicks
Osprey chicks have been tagged with ID rings at Foulshaw Moss Nature Reserve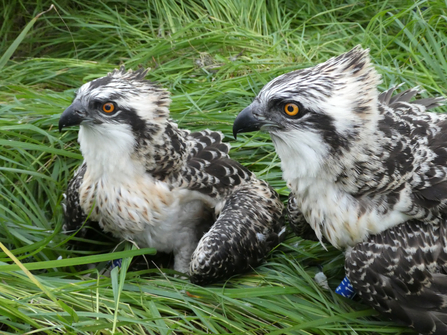 Two six-week-old osprey chicks, both identified as female, were tagged with ID rings at Foulshaw Moss Nature Reserve near Witherslack recently.
Paul Waterhouse, Reserves Officer for Cumbria Wildlife Trust, visited the nest site, to accompany a licenced and experienced bird ringer, brought in to tag the chicks with ID rings. As the osprey is a Schedule 1 protected species, only those with a licence from the British Trust for Ornithology (BTO) are permitted to approach and handle the birds. The parent birds kept a watch on the wing as the two chicks were carefully lowered from their tree-top nest. The process took no longer than 30 minutes and neither parent birds nor chicks seemed unduly alarmed by the activity. As well as being ringed with blue ID bands, they were weighed, measured and checked over.
Paul Waterhouse said: "It was a real privilege to observe these two stunning birds of prey at fairly close quarters for a few minutes. We've been referring to the chicks as Yan, Tan and Tethera (a third chick sadly died soon after hatching), after the old Cumbrian shepherds' system for counting sheep, but now the two surviving chicks will be known by the numbers on their ID tags: 410 and 411. 
"These tags are invaluable as they enable us to identify the birds individually, keep tracks of their movements and understand their life history. They have been fitted with metal BTO rings, as part of the national bird ringing scheme and also a plastic colour ring, which allows individual birds to be identified in the field using a telescope or telephoto camera."
Both chicks are doing very well. At around six weeks old, their wing length is already 34-35 cm and they weigh just over 1.8kg and 1.9kg. As fully-grown adults their wingspan will be around 152cm–167cm (about 5 feet), making them one of the largest birds of prey in the UK.
The pair of osprey chicks are expected to fledge by the end of July and will fly the nest at the end of summer, when they start their hazardous first migration to southern Spain or West Africa. Until then, you can continue to watch their progress on our osprey webcam.
Foulshaw Moss Nature Reserve is open daily to visitors but you are asked to follow social distancing guidelines and respect the one-way routes round the nature reserve. If it is busy when you arrive at the car park, please come back at another time.
This year, telescopes aren't available for viewing the osprey nest, to comply with health and safety requirements for coronavirus, but volunteers will be nearby to talk to you about the ospreys.