This Osprey cam is now offline until Spring 2019
Osprey live nest cam streaming from Foulshaw Moss Nature Reserve
Welcome to #FoulshawOspreys web cam!
This Osprey cam is offline until Spring 2019 when we hope to welcome the ospreys back once again from their wintering grounds.
Our camera provides an up close and personal view of the Ospreys' lives and the action as it unfolds plus a great view of Foulshaw Moss Nature Reserve.
Join in the conversation
If you have any questions for our Foulshaw Moss Nature Reserve Officer do send them in via our Twitter page using #FoulshawOspreys or commenting below and we'll come back to you as soon as we can.
Other wildlife cams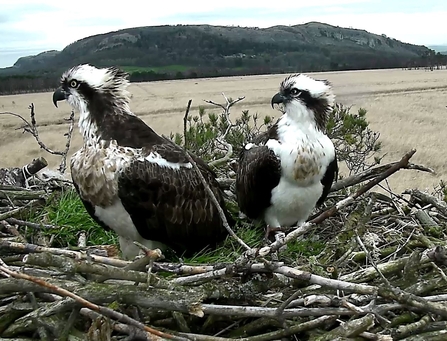 About this breeding pair of ospreys 
The ospreys that favour Foulshaw Moss Nature Reserve near Witherslack as their breeding ground migrate to their wintering grounds in Autumn, most likely West Africa or Europe. 
The male, identified by his 'White YW' leg ring, hatched at Bassenthwaite in 2008. The female, identified by her 'Blue 35' leg ring, hatched at Kielder in 2010.
Had a lovely afternoon at Foulshaw Moss with my two littlest boys and we spotted 5 common lizards. They were thrilled! Love the new boardwalk.
With thanks to:
Langdale based firm Radiata Specialist Tree Services for their support with the nest platform construction and ongoing web camera maintenance.
Swarovski Optik for helping with the purchase of the telescope at Foulshaw Moss Nature Reserve
Individuals and funders who made a donation to make this project possible.
Troubleshooting playback issues
In 2018 we moved the cameras to HTML5 player so you will need to click the play button to watch the live stream.
Read more

Why doesn't it work on a Flash player?

The live streaming is no longer compliant with Flash because Adobe is phasing the Flash plugin out. Unfortunately not all browsers are fully HTML5 compatible.

For example, you may find on one mobile device that Google Chrome browser will work fine, but then not on another mobile device; the reason for this is that different devices only have certain versions available, which again make some devices compatible and others not.

Streamdays, the company that supplies the live stream,  recommends that users ensure that their device and browser are up to date.

Samsung users:

Please try the native built in browser which is called "internet" that is also compatible.

Android users:

Both Firefox and Samsung internet seem to work. Google Chrome and Microsoft Bing appear to be incompatible.

Mac users:

If your playback settings do not allow the option to enlarge the screen to full, please update Safari browser on your Mac to the latest version which should resolve the issue.

If you are still experiencing playback issues please email us at mail@cumbriawildlifetrust.org.uk and we'll do our best to help further - thank you and enjoy!