Full steam ahead for Smardale Nature Reserve
Visitors will soon see the start of works to create a new visitor experience, car park and accessible walkway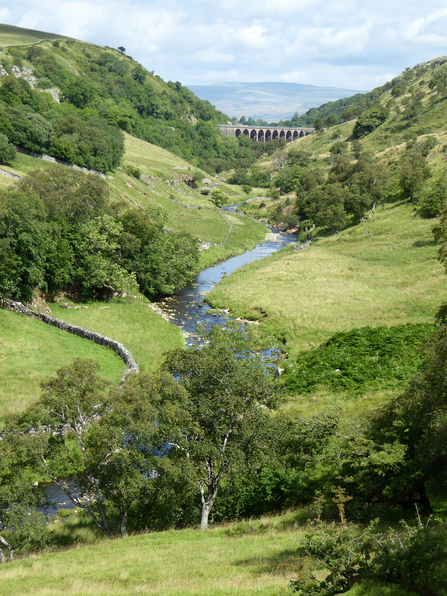 We recently received planning permission for the works at Smardale Nature Reserve and hope to start the project this winter. The new car park will feature railway-style cabins (the reserve lies on the old Tebay to Darlington train line) where visitors can find information explaining the beautiful wildlife that can be seen here. This includes the unusual Scotch argus butterfly, as well as orchids and red squirrels. A red squirrel feeding station and rope bridge will be built behind the visitor cabins which will act as a hide, giving people the chance to see this iconic Cumbrian species close up.
The project also includes the creation of an accessible walkway linking the car park to the original start point of Smardale Gill only 300m away beyond Smardale village. In addition the new car park will become the main parking area for Waitby Nature Reserve. The extension is thanks to a very generous donation from Michael and Elizabeth Lamb of Orton, and links the two existing reserves Smardale Gill and Waitby Greenriggs which lie along the same Stainmore railway line. The whole of Smardale Nature Reserve now extends from Newbiggin-on-Lune almost as far as Kirkby Stephen and lies within the Yorkshire Dales National Park.
Smardale Nature Reserve is one of our finest nature reserves and has become ever more popular over the years for walkers and wildlife enthusiasts. The current car park has become too small for the increasing number of visitors and is too close to neighbours. It is seen by all to be a significant improvement for the area.
The new car park, walk way and information panels are made possible by grants of up to £90,867.16 from Rural Development Programme for England (RDPE) 2014-2020 through Cumbria Fells and Dales, up to £15,820 from Sustainable Development Fund through Yorkshire Dales National Park Authority, and £8,000 from Eden Community Fund through Eden District Council. 
David Harpley, Conservation Manager at Cumbria Wildlife Trust said: "Smardale Nature Reserve is an important wildlife habitat. It is one of the only two sites in England home to the Scotch argus butterfly, red squirrels forage for hazelnuts here and there are 200 plant species including rare and beautiful orchids. The new car park and visitor information will make it much easier and more enjoyable for people to access the nature reserve."
The work to improve the nature reserve for visitors will be complete in March 2019.
Smardale Nature Reserve is an important wildlife habitat and one of the only two sites in England home to the Scotch argus butterfly