Furness savers help red squirrels
Savers with Furness Building Society have helped to raise just under £7,000 to protect red squirrels in Cumbria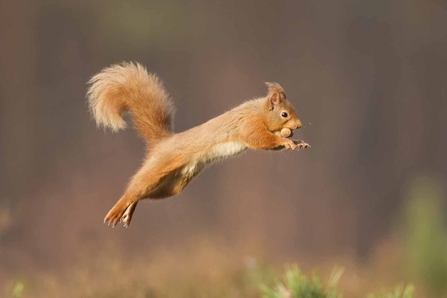 Every year Furness Building Society gives Cumbria Wildlife Trust a cash donation to help red squirrels, based on a percentage of the total funds held by savers in their Save the Red Squirrel Charity Account.
Stephen Trotter, Chief Executive Officer of Cumbria Wildlife Trust, said: "This is a very generous donation which will really help one of our most popular native species. For the past 17 years, savers who put their money in this special account have been supporting red squirrel conservation Cumbria, raising an incredible total so far of £211,400! We're very grateful to them and to Furness Building Society for their continued support for Cumbrian wildlife.
Stephen continued: "Everyone loves to see red squirrels and you can spot them at some of Cumbria Wildlife Trust's nature reserves, such as at Smardale near Kirkby Stephen, where we've installed a special feeding station. We also work in close partnership with Red Squirrels Northern England (RSNE), the organisation which leads the protection of red squirrels right across northern England, and this generous donation will go to RSNE to help them continue their important work."
Simon O'Hare, Project Manager for Red Squirrels Northern England explains how they work: "We work with local groups and volunteers, as well as key conservation bodies, to develop different activities to look after red squirrels. There are now over 40 community groups across the North, with hundreds of volunteers actively participating in local action to conserve this much-loved species. Around 170 people, many of them volunteers, took part in our annual survey in 2019, a huge Citizen Science project. The results are encouraging as once again they show that red squirrel range is remaining stable across northern England."
However, Simon says we mustn't be complacent: "Grey squirrels, which were introduced to Britain in the 1800s, out-compete reds for food and also carry a fatal virus, squirrelpox virus, which they are immune to. Sadly, over 99% of reds known to catch the virus die within two weeks. It's vital that we sustain our conservation efforts into the future to ensure that this iconic native species survives. We're very grateful to Furness Building Society for this donation which will help us to continue our conservation programmes."
Helen Mason, Kendal Branch Manager for Furness Building Society, said: "We are delighted to present Cumbria Wildlife Trust with this year's payment. The Trust provides an invaluable service to preserving our local environment. Our affinity accounts are a fantastic way for supporters of the Trust to raise money simply by keeping their savings in a local Building Society. The more they save the more we pay to help preserve red squirrels and habitats in Cumbria and the north of England!"
The 'red squirrel' counties in the north of England are Cumbria, Northumberland, Tyne & Wear, North Yorkshire, Lancashire, Merseyside and parts of County Durham.
It's vital that we sustain our conservation efforts into the future to ensure that this iconic native species survives.

Red Squirrels Northern England