Let's Ride to Eycott Hill Nature Reserve this summer
This summer, Cumbria Wildlife Trust are teaming up with local British Cycling ride leaders to offer free guided cycle rides to Eycott Hill Nature Reserve near Penrith.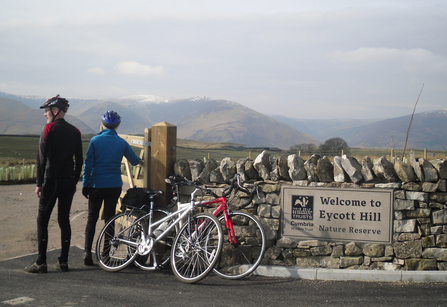 Starting in the historic village of Greystoke the free rides, led by a British Cycling-trained leader, will follow quiet roads to Eycott Hill Nature Reserve for a short talk to learn more about the habitats, wildlife, and geology that make this nature reserve so special.
The rides are free of charge thanks to National Lottery Players, supported by the Heritage Lottery Fund, and British Cycling whose Let's Ride programme is supported by HSBC UK.
The dates of the free cycle rides are:
Saturday 23 June, 10.30am – 12.30pm (approx. 13 miles cycling)
Wednesday 4 July, 7.00pm – 9.00pm (approx. 13 miles cycling)
Sunday 8 July, 10.30am – 11.30am (approx. 8 miles cycling)
The rides include some long but steady climbs and descents but the effort is rewarded with stunning views of nearby Blencathra and the northern Lake District fells.
For more information and to book a free place please visit www.letsride.co.uk and search for rides near Greystoke.
On Sunday 8 July there will also be insect-themed activities and events taking place at the nature reserve as part of the Incredible Insect Recording Day which riders will be welcome to join after the cycle ride.
Located between Keswick and Penrith, near to the village of Mungrisdale, Eycott Hill Nature Reserve is 216 hectares of exceptionally rich wildlife habitat and is a Site of Special Scientific Interest for the plant life in the wetlands and its geology.
Car parking and entry to the nature reserve is free of charge.