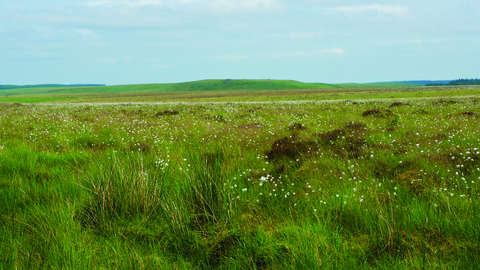 Wild and remote area of blanket bog on the Cumbria-Northumberland border alive in spring to the haunting cries of the curlew. Cloudberry, great sundew and bog rosemary and several species of sphagnum moss are found.
Location
Know before you go
Entry fee
All donations are gratefully received.
Parking information
No designated parking
Bicycle parking
No
Grazing animals
No
Access
There are no paths on the reserve and the terrain is uneven with regular blocked drains. Wellingtons or good walking boots should be worn and great care taken when walking on site. 
When to visit
Opening times
Open at all times
Best time to visit
June to August
About the reserve
Wildlife highlights
Fascinating bog plants, including great sundew, bog-rosemary, bog asphodel, cranberry, cottongrass. In summer look out for the distinctive white flowers of cloudberry, a plant more usually found at higher altitudes.
Many different species of Sphagnum moss.
Experience the evocative call of curlews in spring.
Border mires  
Butterburn Flow is the largest of 58 mires straddling the border between Cumbria and Northumberland, collectively known as the Border Mires.
Butterburn is bounded on two sides by the River Irthing which itself forms the border between the two counties.
During the 20th century, much of the area was planted with conifers by the Forestry Commission, forming the Kielder Forest, the largest forest in England at 50,000 hectares. 
The peat bogs within the area were generally avoided although some planting and drainage did occur on the edges of the bogs and some sites were drained in preparation for afforestation.
What makes Butterburn Flow so special?
Butterburn Flow is a blanket bog, meaning that it lies over the landscape like a wet blanket. It receives moisture from groundwater as well as from rainfall. 
Surprisingly, it's relatively intact with a high water table as there's been little artificial drainage in the past.
As a result, peat is still actively growing and an abundance of Sphagnum moss, which forms extensive lawns and hummocks, known as patterned mire thrives in this wet environment. 
Keeping it special
Butterburn Flow is owned by the Forestry Commission and managed by Northumberland Wildlife Trust.
Getting here
By car:
Butterburn Flow lies 16km/9.5 miles north of Gilsland. From the centre of the village, cross the River Irthing and take the first right signed for Butterburn, Gilsland Spa and Spadeadam. After 3km/2 miles, the road ahead becomes private MoD access. Bear right here  (the road is signed as a dead end). Follow this road for 8km/5 miles to Butterburn Farm and continue for a further 3km/ 2 miles to the end of the surfaced road. There is no official access point and no signs, however access is best gained from the high point in the road at grid ref:  NY 660 758
By bicycle:
4 miles from National Route 68 Pennine Cycleway (off-road route).
By public transport:
Buses run from Brampton to Gilsland.
Habitat
Environmental designation
Ramsar
Site of Special Scientific Interest (SSSI)
Special Areas of Conservation (SAC)
Upcoming events at Butterburn Flow Nature Reserve
If there are any upcoming events at Butterburn Flow Nature Reserve we'll show them to you below.