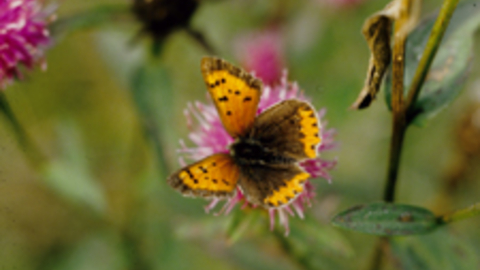 A tiny fragment of undisturbed lake shore at the northern end of Derwentwater. Wet woodland fringed by reed beds are home to a variety of woodland and lake shore birds.
Know before you go
Grazing animals
No
Walking trails
The site is very wet particularly in the winter and wellington boots are recommended. There are no paths on the reserve. Warning - deep water is present.
When to visit
Opening times
Open at all times
Best time to visit
April to July
About the reserve
Highlights An undisturbed lake shore. Haven for woodland and  lakeshore birds. How the reserve got its name In the early part of the 20th century, a magnificent wooden boathouse was present on the site but this was dismantled in the 1930s. The field known as Boathouse field was formerly grazed and was managed as grassland until the 1990s when it was decided to allow woodland to develop on this area. Old hedges are being allowed to grow up and tree regeneration is being encouraged. Into the woodland The field grades into wet woodland.  Ash and willow, with bird cherry, elder and holly beneath, are the main tree and shrub species.  Summer snowflake, planted in the woodland many years ago, thrives in the wet conditions. You may find great spotted woodpecker, long tailed tit, treecreeper and spotted flycatcher and other woodland birds here. Nearing the lake edge As the ground becomes wetter, willow becomes more frequent and reeds start to appear. The lake edge has an area of reedbed, a habitat which has been lost from many lake margins due to man's activities. Here, you may see coot, mallard and mute swan. Sedge warblers have also bred here. Keeping it special We manage this reserve largely by non-intervention although we carry out some control of non-native plant species such as sycamore and Japanese knotweed from time to time. Boathouse Field was given to Cumbria Wildlife Trust by Miss M Birkett and Miss D Ramsey in 1979. Getting here By car:  From A66 take minor road signed for Portinscale and Lingholm Gardens.  Pass Derwent Marina and the reserve is immediately on the left.  Parking is limited. By bicycle: The reserve is on National Route 71 Coast to Coast. By public transport: Buses run from Keswick to Portinscale. Nature Reserves Guide Cumbria Wildlife Trust's Nature Reserve Guide, which provides information about all the Trust's reserves is available to buy now from our online shop.
Environmental designation
Site of Special Scientific Interest (SSSI)
Special Areas of Conservation (SAC)
Special Site of Scientific Interest