The ringing of our Cumbrian ospreys 2018
Our hatchlings aren't so small anymore! Here's the rundown on our chicks 5N, 7N and 9N.
The long awaited chick ringing has finally happened! 5N 9N and 7N, are our new Foulshaw chicks.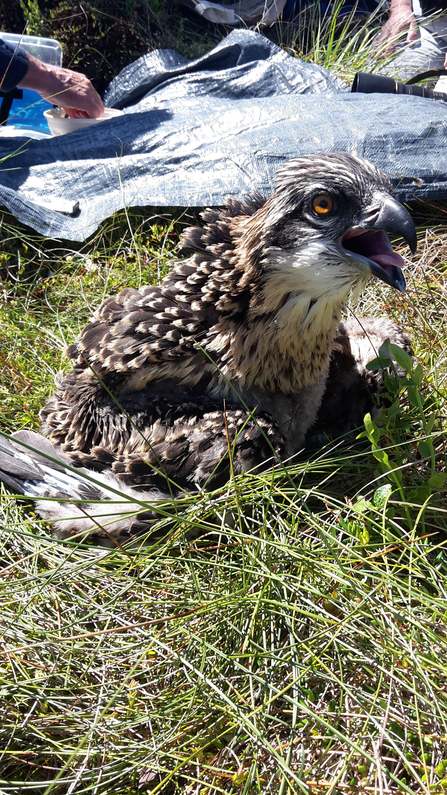 Blue 5N was the first chick to hatch on the 22 May is male weighing 1.44kg (3.17lb) and a wing length of 332mm (13"), being male he was quite feisty too!
It only feels like yesterday when 5N was this little thing!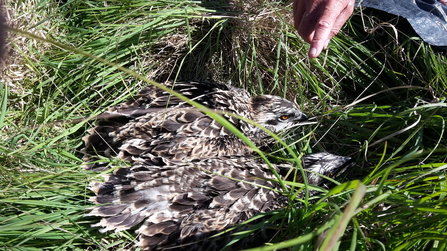 Blue 9N was the next chick to hatch on the 24 May. She was supposed to be 6N, but the ring broke so we used 9N instead, sorry for any confusion! She's female weighing more than 5N at 1.46kg (3.2lb) even though she hatched after him but a shorter wing of 310mm (12").
Last but not least is the little one! Now known as Blue 7N hatching last on the 26 May might be male, weighing 1.42kg (3.1lb) and a short wing length of 280mm (11").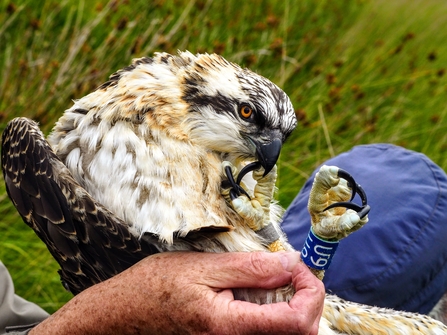 But what are all these rings about? What's the point? Well these coloured plastic rings, known as Darvic rings, tells an observer in the field more about the identity of an individual. Ospreys are fitted with a metal British Trust for Ornithology (BTO) ring on one leg and a larger Darvic ring, with a unique alphanumeric code, on the other. It's possible to read the inscription on the Darvic ring in the field using a telescope from a distance of up to 300 metres.
If the coloured ring is on the right leg then that's an English or Welsh bird you ol' chap! If the coloured ring is on the osprey's left leg, that's a true Scotsman/Scotslass you be looking at laddie!  All the offspring that Blue 35 and White YW have raised wear a blue darvic ring.
You don't even need to be able to read the letter to get a rough indication where the bird is from, which is amazing! The numbers and letters record the ID of the bird, so the place and date it was ringed. From that we can find out if they've settled locally to where they hatched, like White YW from Bassenthwaite in Cumbria who hatched in 2008, or if they've settled from afar like Blue 35 from Kielder in Northumbria who hatched in 2010.
The weather has been dry and baking hot! You may be worried about Foulshaw Moss, is it drying out? Do not worry! I have first-hand experience while ringing the Ospreys that the bog is still very boggy after sinking down to my waist in it!
The ospreys fledging is just around the corner now, which one do you think will fledge first? Leave your thoughts on Twitter and Facebook using the #FoulshawOspreys
Andrew
About the author: Andrew is on a student placement with us in 2018-19 gaining experience in wildlife conservation alongside Foulshaw Moss Nature Reserve Officer, Paul Waterhouse.