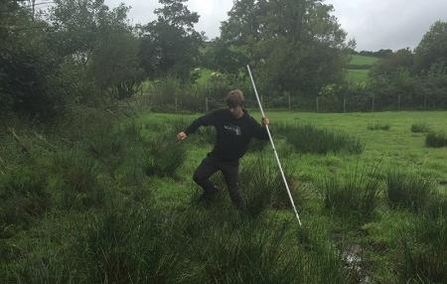 This was our first experience of surveying of any kind so we spent a good few hours on the first hedge learning what it entailed. We enjoyed learning to identify various plant life within the hedgerow.
We used a tree identification book using features of the leaves and stem to work out which trees were in the hedgerow. By the end we'd already picked up quite a lot of knowledge about identifying trees and why they are of such importance to the countryside.
One particularly distasteful task involved measuring the length of the hedgerow which entailed crossing a deep bog (in less than adequate gear in my case!).
Once we'd moved on to the second hedgerow things began moving a lot quicker once we knew what we were doing. We had a great encounter with a buzzard while we were there as it glided down from further up in the valley to around 15 meters away where it swerved violently when it saw us. 
Overall the day was a great insight into the work we'll be doing for the next two years and we can't wait to get involved further!
About the authors: Sian and Isaac were Aprentice Conservation Officers with the Trust from September 2016 to spring 2018