The Wildlife Trusts call for an immediate end to peat sales
Survey of top retailers: only one of 20 says they will eliminate peat this year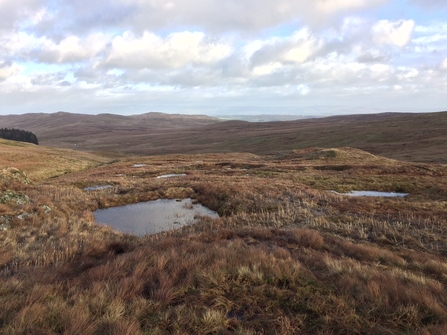 The first thing any wildlife gardener can do to help wildlife at home is to stop using peat altogether
A new survey shows that only one of 20 leading garden retailers contacted by The Wildlife Trusts reported that it would eliminate peat from its shelves this year – and the survey reveals an overall lack of ambition by retailers to set targets to end peat sales. Last year, the voluntary target set by the Government to end sales of peat composts to amateur gardeners was missed.
This year the Government will decide if new legislation is needed to end peat use in the horticultural sector – but there is still no sign of their long-awaited peat strategy. The Wildlife Trusts are now calling for an immediate end to sales of peat compost – further delay will cause continued destruction of peatlands worldwide.
Stephen Trotter, Chief Executive of Cumbria Wildlife Trust said:
"After decades of inaction by the horticultural trade, a ban on the use of peat is now long overdue and urgent. 
Cumbria has many lowland bogs that have been savaged by peat extraction – and few counties in England better illustrate the devastating ecological impact that the use of peat in gardens has had on wildlife. 
Most peat extraction has now ceased in Cumbria but the damage will take many generations to recover.  Cumbria Wildlife Trust is leading efforts to put these damaged bogs back into recovery but it's clearly far better not to cause the damage in the first place – and all gardeners can help.  The first thing any wildlife gardener can do to help wildlife at home is to stop using peat altogether. 
I would encourage everyone to go peat-free during April and to join our campaign to ban the use of peat. 
Gardeners can play their part this Easter by only buying plants grown in peat-free compost, and by asking questions of your garden centre – which of their composts are peat-free and why don't they stock a wider range of peat-free composts?
There are now plenty of peat-free alternatives available for gardeners to use.  One of them is even produced here in Cumbria by the innovative Dalefoot Composts, based near Shap.  Their range of peat-free compost options use a special blend of locally-sourced bracken and wool – so not only is their product a peat-free way to grow healthy plants but it also helps tackle two big issues in Cumbria – the widespread problem of bracken and the lack of a market for wool.  Other peat-free options are available, of course!"
Calls to end peat use began over 30 years ago when people began to realise that peatlands are priceless – recognising them as precious places for wildlife, and more recently as habitats which capture and store carbon if managed well.
Some retailers are doing notably better in moving away from peat than others: of the 11 out of 20 retailers that responded to the Wildlife Trusts' survey, all now offer peat-free composts as part of their range, and none sell soil improvers or mulch containing peat. Travis Perkins and Wickes were the only two retailers to declare an end-date for peat sales – Travis Perkins by this year, and Wickes by 2025. But while a further few plan to end peat sales in the future, no dates have been specified and others have no clear commitments at all. Just four reported stocking ranges of peat-free plants.