Trust receives grant of £249,500 from the government's Green Recovery Challenge Fund
Cumbria Wildlife Trust is one of the first environmental projects awarded a grant from the government's £80 million Green Recovery Challenge Fund.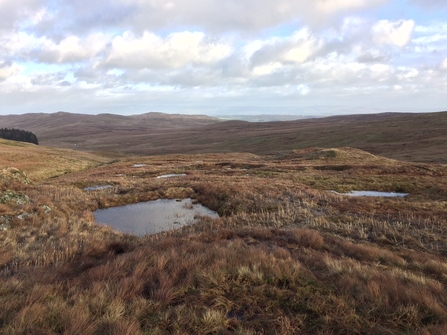 Over 95% of peatlands surveyed were in poor management condition, so it's crucial that we do what we can to repair them, for the sake of wildlife and the environment.
68 projects have been awarded grants between £62k and £3.8 million to kick-start a pipeline of nature-based projects while creating and retaining jobs
First funding round sees £40 million pot allocated, second round of funding to open in early 2021
The Department for Environment, Food and Rural Affairs (Defra) announced grants between £62,000 and £3.8 million recently, to help create and retain thousands of green jobs. The projects, spread across England, will see trees planted - 800,000 in total - and protected landscapes and damaged habitats such as moorlands, wetlands and forests restored, alongside wider conservation work. The projects will also support environmental education and connecting people with green spaces.
Cumbria Wildlife Trust will restore 300 hectares of peatlands at three sites within the Lake District National Park: at Armboth, Tilberthwaite and Shap Fells. We will also survey 3,000 hectares of peatland to develop new peatland restoration sites, securing jobs beyond the life of the project.
Peatlands are unique habitats but surveys in the Lake District confirm that most of them are in poor condition. This project will restore peatlands for wildlife, water quality, flood prevention and for the vital role they play in locking carbon in their soils.
Stephen Trotter, Chief Executive Officer at Cumbria Wildlife Trust said: "This is fantastic news. The grant from the Green Recovery Challenge Fund will enable us to carry out vital restoration of important peatland sites in the county, as well as create green jobs. Peatlands are in trouble. Globally around a quarter of our peatlands have been destroyed. In the UK at least 80% are damaged. Unfortunately, the condition of peatland soils in Cumbria is in a similarly poor condition. Our survey found that over 95% of peatlands surveyed were in poor management condition, so it's crucial that we do what we can to repair them, for the sake of wildlife and the environment."
Stephen explains why damaged peatlands need to be repaired: "Damaged peatlands release CO2 into the atmosphere, so it's hugely important to address this for the climate crisis. We estimate that in their current condition, the Cumbrian peatlands are releasing the equivalent of 222,769 tonnes of CO2 into the atmosphere every year. To put this figure into perspective, the carbon cost of visitors, coming to and from the Lake District annually, is estimated to be 941,356 tonnes CO2.
"As well as helping to reduce CO2 emissions, repaired peatlands will also improve the water quality on the sites and reduce the risk of flooding downstream. The work will also benefit wildlife that peatlands support: plants like sundews, butterwort and bladderworts have evolved on peatlands to be carnivorous, getting nutrition from small insects like midges. Curlew, golden plover and snipe breed in summer on Cumbria's peat bogs, and short-eared owls and hen harriers hunt across these areas too."  
We will carry out the work as part of the Cumbria Peat Partnership, working with the National Trust, United Utilities, Environment Agency and others.
The Green Recovery Challenge Fund is a key part of the Prime Minister's 10 Point Plan to kick-start nature recovery and tackle climate change.  The fund is being delivered by the National Lottery Heritage Fund in partnership with Natural England and the Environment Agency.
Environment Minister, Rebecca Pow, said:  "These projects will drive forward work across England to restore and transform our landscapes, boost nature and create green jobs, and will be a vital part of helping us to build back greener from coronavirus. I look forward to working with environmental organisations as these projects help address the twin challenges of biodiversity loss and climate change, while creating and retaining jobs as part of the green recovery."
Ros Kerslake, Chief Executive, National Lottery Heritage Fund, said: "Supporting our natural environment is one of the most valuable things we can do right now. All these projects are of huge benefit to our beautiful countryside and wildlife, but will also support jobs, health and wellbeing, which are vitally important as we begin to emerge from the coronavirus crisis."
The government's forthcoming Environment Bill puts the environment at the centre of policy making to ensure that we have a cleaner, greener and more resilient country for the next generation. The fund is supporting a range of nature conservation and  recovery and nature-based solutions projects, which will contribute towards government's wider 25 Year Environment Plan commitments, including commitments to increase tree-planting across the UK to 30,000 hectares per year by 2025.
The Green Recovery Challenge Fund is funded by Defra and is being delivered by The National Lottery Heritage Fund in partnership with Natural England and the Environment Agency.