Trust is given a new nature reserve
Cumbria Wildlife Trust given its largest piece of land so far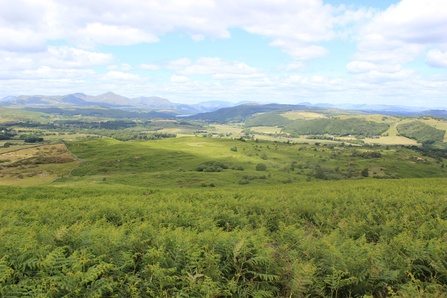 The Trust has been given a new nature reserve at Lowick Common near Lowick Green, north of Ulverston. It is the largest area of land we have been given so far, measuring 106 hectares, and is home to a number of special species, including:
Great crested newt and 15 species of dragonfly and damselfly
Butterflies including the small pearl-bordered fritillary
Reptiles such as slow worms and adders
Birds like redpoll, spotted flycatcher and yellowhammer
Lowick Common was formally handed over to the Trust recently by Yvonne Miller from Lowick village. Yvonne explained why she wanted to make this gift: "We were fortunate to buy Lowick Common in 1990 after living at the edge of it for 20 years. My late husband, Jim, had roots spanning many generations living in the Crake valley and he had a deep love of the area and its wildlife. It is a great joy to the family that we can hand Lowick Common over to Cumbria Wildlife Trust who will protect and care for the habitats and myriad of species so that future generations are able to enjoy it."
Peter Bullard, Director of Cumbria Wildlife Trust, said: "This is a wonderful gift to the people and wildlife of Cumbria and we are extremely grateful to Yvonne. Lowick Common is already great for wildlife, having been looked after so well by the Miller family. Our next steps are to set up surveys so we can monitor the wildlife and check that any changes we make have a positive impact, and to maintain clearer paths over the nature reserve to allow people to visit all year round."
The land is attractively wild with spectacular views up Coniston Water towards Coniston Old Man. From the summit, Lowick Beacon, it is also possible to look south over Morecambe Bay towards Blackpool. Among the special habitats found on the reserve are lowland heath and acid grassland with some areas of lowland fen, along with a number of small tarns, one of which is home to the medicinal leech. This is one of the few places in Cumbria you can find these water-based, blood-sucking animals.
You can visit Lowick Common Nature Reserve using the network of existing paths. It is near Lowick Green on the A5092 north of the Furness Peninsula.
To find out more about leaving a gift to Cumbria Wildlife Trust, either in your lifetime or in your Will, click here