Osprey chicks hatch at Foulshaw Moss Nature Reserve
For the eighth year running, osprey chicks have successfully hatched at our nature reserve near Witherslack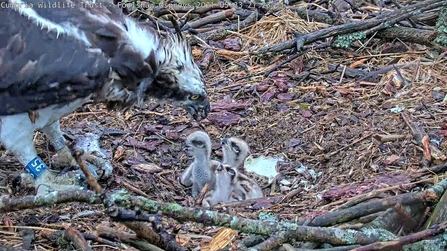 Three osprey chicks have hatched at Foulshaw Moss Nature Reserve, making this the eighth year running for the very successful pair of breeding ospreys, Blue 35 and White YW.
Paul Waterhouse, Reserves Officer for Cumbria Wildlife Trust, looks after Foulshaw Moss Nature Reserve. He said: "We've been watching our osprey webcam with bated breath for the past weeks, and were delighted when the first chick hatched on 18 May, followed by two more on 20 and 22 May, after over a month's incubation. This is actually the ninth year the ospreys have nested here, though they didn't produce any chicks in the first year. So far, they've raised 18 chicks, making them a phenomenally successful breeding pair. We look forward to watching the chicks' progress on our new webcam – it includes sound for the first time, so you can hear the birds calling to each other as they bring fish back to the nest. I encourage everyone to watch the webcam, to see these fascinating and majestic birds of prey close up. You can also keep up with all the latest news from the osprey nest on social media using #FoulshawOspreys."
For those who want to visit Foulshaw Moss Nature Reserve in person, Paul says that you can now find out even more about the ospreys, at a newly refurbished visitor cabin at the entrance: "We welcome visitors to the nature reserve. We've just reopened the visitor cabin, with new displays and information about the ospreys, as well as the other fantastic wildlife you can see at Foulshaw Moss in the summer, including dragonflies. Our raised osprey viewing platform and the lower viewing point are both open – make sure you bring your own binoculars or telescopes. We anticipate large numbers of visitors in the coming weeks, so if the car park looks full, please come back later when it's less busy!"
For more news of the Foulshaw ospreys, listen to the regular Osprey Watch slot on Radio Cumbria, every Friday afternoon throughout osprey season.
Join in the osprey conversation on social media using #FoulshawOspreys