Lakeland gingerbread shop helps Cumbria's wildlife
The Grasmere Gingerbread Shop supports Cumbria Wildlife Trust through sales of their wildlife-themed goodies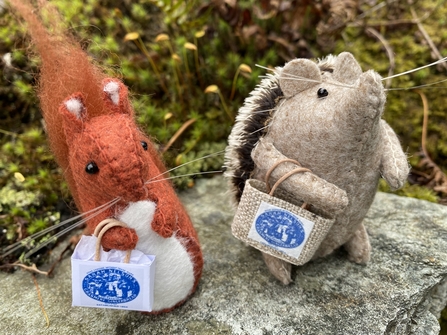 Grasmere Gingerbread®, known for its unique, spicy-sweet snacks, is supporting Cumbria's wildlife by donating a percentage of the sales of their wildlife-themed goodies to Cumbria Wildlife Trust. We have received £709 from the shop's sales of dipper lollies, as well as sales of its hedgehog and red squirrel soft toys.
Michelle Waller, Senior Development Officer at Cumbria Wildlife Trust said: "We're very grateful to Grasmere Gingerbread® for their ongoing support. While customers love their sweet treats and cheerful gifts, by choosing them they are also choosing to help local wildlife.
"The chocolate 'dipper' lolly is named after the distinctive bird of the same name, which you can see bobbing up and down on the stones in fast-flowing rivers, including at some of our nature reserves, such as Argill Woods. Hedgehog numbers are falling dramatically - they really need our help - and as we know, we're lucky enough to be one of the very few places in the country where you can see red squirrels. Grasmere Gingerbread® and their customers are helping to us conserve these iconic species, by looking after the special habitats and wild places that they need to thrive."
Yasmine Hunter, 4th Generation, Grasmere Gingerbread® said: "Red squirrels and hedgehogs are so iconic and when I was a little girl I absolutely loved reading Beatrix Potter's books about Squirrel Nutkin and Mrs Tiggy-Winkle. So it's thrilling for me personally that both these lovely British mammals feature in our Grasmere Gingerbread® Collectibles collection. Not only are they delightful keepsakes in their own right, but they help to raise funds for Cumbria Wildlife Trust which does so much to care for the county's natural heritage. The heritage and landscape is something we all want to preserve for future generations."