Kendal-based homebuilders support local wildlife
We welcome Russell Armer Homes as a supporter of local wildlife and the environment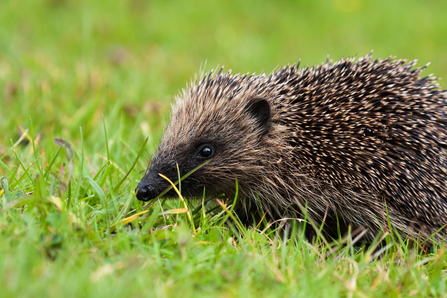 Property developers Russell Armer Homes have pledged their support for the Trust as they encourage homeowners to make space for wildlife in their new gardens. They are ensuring that all their new homes have a 'hedgehog highway' gap in their fencing, to allow hedgehogs to move between gardens, and are including one of our wildlife gardening guides in each of their new home welcome packs.
Having a 'hedgehog highway' gap in your fence, so that hedgehogs can pass freely through your garden, is the most important thing you can do to help these much-loved animals. Michelle Waller, Senior Development Officer at Cumbria Wildlife Trust, explains why: "Hedgehogs need to be able to roam far and wide in search of food, mates and nesting sites - the average hedgehog roams 2km a night! This is just one way we can help hedgehogs, whose numbers sadly are declining. In just the last 10 years, hedgehog numbers have fallen by 30%, and there are now thought to be fewer than one million left in the UK."
Martyn Nicholson, MD of Russell Armer Homes, explains why he wanted to get involved: "Cumbria Wildlife Trust is engaged in invaluable work throughout our beautiful county and we're delighted to offer our support. We put a great deal of thought into how we can best nurture biodiversity on Russell Armer developments, through meticulous planting schemes and other conservation initiatives. If we can help local wildlife to thrive by promoting careful stewardship of native species, we'll always try to find a way. The hedgehog highways are a great example of what you can achieve when you put your mind to it – and our homeowners love them!"
Russell Armer Homes are also looking at other ways they can build space for wildlife into new-builds, including places for birds to nest and, where the buyer is keen, wildlife ponds.
Michelle Waller says: "We're delighted that Russell Armer Homes have made this commitment to helping Cumbria's wildlife. We're also grateful that they have committed to becoming a bronze level Corporate Member of Cumbria Wildlife Trust and over the coming years we hope to work together, bringing nature closer to people and making homes and gardens more wildlife-friendly."
Would you like to make your business more wildlife-friendly? Find out how to support wildlife by becoming a corporate member of Cumbria Wildlife Trust. Contact Michelle Waller on 01539 816300 or email michellew@cumbriawildlifetrust.org.uk.