Fears the badger cull will be expanded and vaccinated badgers will be shot despite Government commitment to move away from lethal control
The Wildlife Trusts are deeply concerned that healthy, vaccinated badgers will be shot in several new areas this autumn as the Government continues its annual culling of badgers.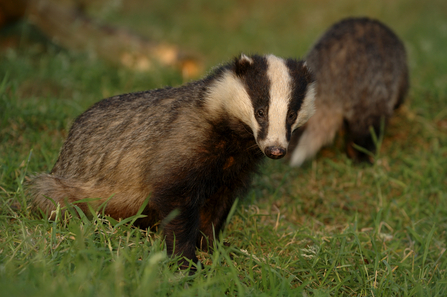 Expanding the cull in this way would go against Government assurances in March this year that they would move towards vaccinating rather than culling badgers (1) as part of their efforts to stem the spread of bovine tuberculosis (bTB). According to a leaked report of this year's upcoming cull zones, most of these new cull areas are not at high risk from the disease. Worse still, most are places where Wildlife Trusts have been vaccinating hundreds of badgers against the disease with the support of significant Government funding.
This week, the government published its response (2) to a consultation on culling and vaccination in Edge Area counties – these are counties close to those where bTB is more widespread. Some of these areas will now be targeted for Government culling. In the recent consultation the Wildlife Trusts recommended a minimum of 7km between cull and vaccination areas. However, the new consultation response says the government will allow culling with only very small buffer zones of between 200 metres and 2 km.  
The small size of the proposed buffer means that badgers which have been vaccinated and are healthy may be shot – despite the fact that government funding has helped Wildlife Trusts develop badger vaccination programmes.
The Wildlife Trusts oppose culling and believe the science used to justify the killing of thousands of badgers every year in the UK is flawed. Evidence shows that bTB is primarily a cattle problem, not a wildlife one (3). The main route of bTB transmission in cattle is between cattle. 
At least seven new counties could see a badger cull starting this September. These include areas of Derbyshire, Nottinghamshire, Oxfordshire, Shropshire, Warwickshire, Leicestershire and Lincolnshire. The new counties add to a growing list where the Government is allowing badgers to be shot resulting in a total of 54 areas of England allowing the shooting of up to 64,000 badgers.
David Harpley, Conservation Manager at Cumbria Wildlife Trust, said:
"Whilst we have massive sympathy for the multiple impacts and costs of this disease on affected farmers and their businesses in the Shap area, we strongly oppose the culling of badgers, one of our best-loved wild animals. 
In Cumbria, the badgers have caught bTB from cattle and not the other way round. We agree completely that bTB needs to be addressed urgently as a very serious disease, but all of the scientific evidence shows the wholesale killing of this much-loved species is not justified and won't actually solve the problem of bTB in cattle. 
Cumbria Wildlife Trust strongly believes the cull of badgers in Cumbria should be abandoned in favour of a vaccination programme in badgers and cattle. This has been shown to be effective and can be done at lower cost, alongside improved testing, better movement controls and enhanced biosecurity measures.
This is a disease of cattle and should be treated as such. The expansion of the cull appears to be in direct contradiction to the Government statements earlier this year (when George Eustice became Secretary of State in December 2019) which indicated a move away from culling to vaccination and other measures. We're surprised the Government has changed its approach so quickly."
Several Wildlife Trusts have started an e-action against the cull coming to their counties for the first time: Derbyshire, Nottinghamshire, Lincolnshire and Leicester & Rutland Wildlife Trusts. More information here.
Editor's notes:
A strategy for achieving Bovine Tuberculosis Free Status for England: 2018 review, led by Professor Sir Charles Godfray https://www.gov.uk/government/publications/a-strategy-for-achieving-bovine-tuberculosis-free-status-for-england-2018-review
Bovine TB: badger vaccination and culling in England's Edge Areas https://www.gov.uk/government/consultations/bovine-tb-badger-vaccination-and-culling-in-englands-edge-areas
Donnelly, CA & Nouvellet, P., 2013. The Contribution of Badgers to Confirmed Tuberculosis in Cattle in High-Incidence Areas in England. PLoS Currents: Outbreaks. http://currents.plos.org/outbreaks/article/the-contribution-of-badger-to-cattle-tb-incidence-in-high-cattle-incidence-areas/
Bovine tuberculosis is a highly infectious disease of cattle which devastates thousands of farming businesses annually. Since the mid-1980s, the incidence of bovine TB in cattle has increased substantially creating an economic burden on the taxpayer and the farming industry, as infected cattle must be culled.
Trusts have been vaccinating badgers in areas of Derbyshire, Shropshire, Nottinghamshire, Leicestershire and Oxfordshire.
Badger culls have previously taken place in the following locations:
Avon
Cheshire
Cornwall
Cumbria
Devon
Dorset
Gloucestershire
Herefordshire
Somerset
Staffordshire
Wiltshire