Do you want to help bumblebees in Cumbria?
We're looking for volunteers in the north west of the county to join our team recording bumblebees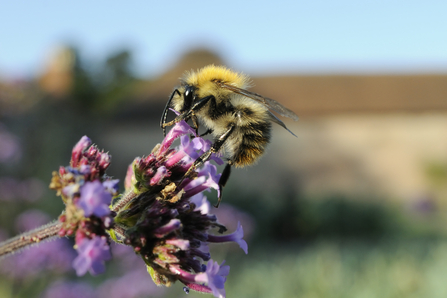 As a trained bumblebee recorder ... you will help support bumblebees across the county

Project Officer, Get Cumbria Buzzing
Would you like to learn how to tell apart one bumblebee from another? There are 24 different species of bumblebees in the UK but they can be tricky to tell apart. You can now sign up to a training webinar to learn how to identify them and also become a volunteer bumblebee recorder.
We're looking for volunteers to help record the number and range of bumblebees found in the north west of the county, for the Get Cumbria Buzzing project.
We are running a series of four online webinars in July and August, aimed specifically at those living in north and west Cumbria, to teach you how to identify and record these much-loved pollinating insects.
Julia Pigott, an experienced bee keeper and trainer, will lead the events, teaching the basics of bumblebee identification – no prior knowledge is required -  and participants will then be able to sign up as bumblebee recorders for Cumbria Wildlife Trust. You'll learn how to upload your sightings onto the Cumbria Biodiversity Data Centre database.
The four webinars will be aimed at people living in Carlisle, Maryport, Whitehaven and Workington, as these are the areas that the Get Cumbria Buzzing project is focusing on. Numbers are limited and you are advised to book well in advance.
The Bumblebee ID and Recording webinars take place online on the following days, from 1.00pm to 3.00pm:
Workington – Friday 10 July
Whitehaven – Thursday 16 July
Maryport – Thursday 6 August
Carlisle –Thursday 20 August
Lucy Graham, Project Officer for Get Cumbria Buzzing, explains why bumblebees need our help: "Across the UK, bumblebees and other pollinating insects are disappearing at an alarming rate. More than half of our bee, butterfly and moth species have declined in the past 50 years, and 30 species of bees face extinction. Over the last 75 years we've lost 97% of our flower rich meadows, 50% of our hedgerows, and 60% of flowering plants are in decline.  
Lucy continues: "As a trained bumblebee recorder, your information will contribute really valuable data to local and national records. With your help, we'll be able to create the first Cumbrian Pollinator Atlas and track insect populations and movements. This valuable data will help inform us on the best ways to support bumblebees across the county."