Can you be the eyes and ears for a toad monitoring project in Cumbria?
We're looking for volunteers to help record the numbers of rare natterjack toads on Cumbria's coast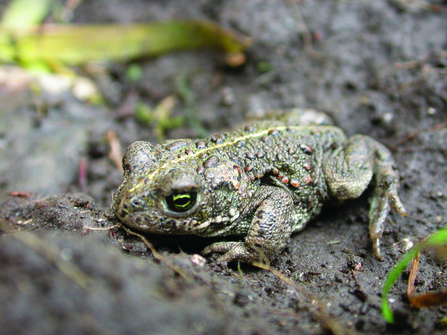 Smaller than the common toad, the natterjack toad is very rare, found in only around 60 places in the UK. We are lucky enough to have a few of these sites here in Cumbria and you now have the opportunity to help with the conservation of this threatened amphibian.
Dynamic Dunescapes, who are working hard to restore sand dunes across Cumbria, have teamed up with Amphibian and Reptile Conservation (ARC) to increase our understanding of these rare sand-dune dwellers. They are seeking new, long-term, dedicated volunteers to undertake surveys throughout spring and summer to help ARC to monitor and conserve one of the rarest amphibians in the UK.
Eve Mulholland, Dynamic Dunescapes Engagement Officer with Cumbria Wildlife Trust, explains: "This is a very exciting opportunity for people to get involved with helping this popular but threatened species. Natterjack toads breed in warm, shallow pools on sand dunes. In the spring, the males all sing together at night to attract females and their calls can be heard up to a mile away! They tend to run instead of walking or hopping, giving them the name the 'Running toad'. With this recording project, we're looking for volunteers to be the 'eyes and ears' of the national natterjack toad survey, recording numbers of natterjack toads in a variety of locations, including the Duddon Estuary between Walney Island and Foxfield Station, the Millom area, Drigg, Mawbray and Silloth.
Eve continues: "These wonderful creatures are under threat because their habitat – which includes sand dunes – is being damaged. Over recent years, climate change, changes in land use, loss of rabbit populations and the increase in nitrogen deposition, have all accelerated the growth of vegetation around natterjack toad breeding sites. This puts pressure on specialist plants and animals that rely on the open sandy habitat to thrive. The volunteer recorders on this project will play a key role in helping us track changes in natterjack toad populations, so that we can save precious habitat and make sure it is managed in a way that helps them to thrive."
Yvette Martin, Amphibian Conservation Officer with Amphibian and Reptile Conservation, said: "It is great to have the support of Cumbria Wildlife Trust and Dynamic Dunescapes to recruit new volunteers to make sure Cumbrian sites are well represented in the national survey in 2021. Cumbria is one of England's strongholds for natterjack toads and with around 23 sites to cover, ARC could not collect the data we need without volunteer support. ARC has coordinated the National monitoring programme since 1995 and those signing up to help with surveys will have the opportunity to contribute this long-term data set.  Data collected is used to assess changes to the natterjack toads' breeding populations and distribution and leads to tailored advice for land-managers."
There is an online training workshop on 3 March for those interested in applying to be a natterjack toad recorder. Click here for information and to apply, contact Yvette.martin@arc-trust.org. 
Dynamic Dunescapes is working closely with other conservation bodies in Cumbria to help natterjack toads, including Solway Coast Area of Outstanding Natural Beauty (AONB). Mawbray Banks Nature Reserve on the Solway is a breeding site for the toads. They require ponds with little vegetation, gently sloping open access, short grass swards and areas that are sheltered to keep the water temperature warm. Working with Dynamic Dunescapes, the Solway Coast AONB are building two of these pools on site, in preparation for the breeding season this spring. This follows construction of a new pool in 2019, which saw the return of a breeding population of natterjack toads to the site and will bring the total to four toad pools on this site. Click here for more information about sand dune recovery works at Mawbray Banks. 

Dynamic Dunescapes is funded by the National lottery Heritage Fund and EU Life Programme. Project partners include Natural England, Plantlife, The National Trust, Natural Resources Wales and the Wildlife Trusts.  The pioneering project is working across 34 sites and is undertaking 7,000 hectares of restoration work to rejuvenate our sand dunes – the habitat most at risk in Europe for biodiversity loss.

ARC is a national wildlife charity committed to conserving amphibians and reptiles and the habitats on which they depend. ARC co-ordinates the national recovery programme for the natterjack toad.