Brighten up the winter lockdown by joining a wildlife digital event
Join us for a series of online events to help you connect with nature during the lockdown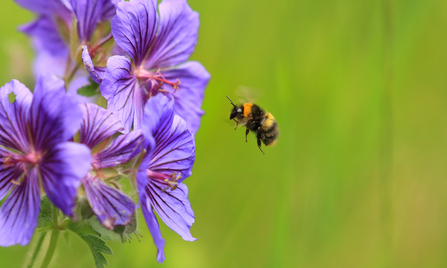 As the nights draw in, why not spend a relaxing evening sewing pollinator-inspired Christmas decorations or try your hand at watercolours, making a decorative 'pollinator concertina' for your mantelpiece? If you'd rather sit back and enjoy the company of a local wildlife expert, you can hear all about the exciting recent return of beavers to Cumbria or take a closer look at the wonderful grey seal colony at South Walney.
These are just some of the online wildlife-inspired events we're offering over the coming weeks. Open to all, you can join in from the comfort of your living room.
Melanie Shears, Apprentice Conservation Officer for Cumbria Wildlife Trust said: "With another lockdown in place, it's now more important than ever for everyone to enjoy the remarkable mental health benefits of connecting with nature. Whilst it isn't possible for us to meet you face-to-face on our nature reserves, we've put together an exciting programme of digital events. They offer you the opportunity to take some time away from this difficult period and help keep you close to nature. We've already received some wonderful feedback on our digital events so far, with many of you letting us know that, despite the lockdown, you're finding pleasure in this online connection to the outdoors. We are looking forward to welcoming more of you for a little bit of 'wild time'! All you'll need to join us is a laptop, desktop PC, or smartphone. Tickets are limited, so please book in advance!"  
Online events during lockdown:
How to create a pollinator concertina -Tuesday 17 & Tuesday 24 November 2020, 7.00pm-9.00pm
Eurasian Beavers -Thursday 26 November 2020, 6.30pm-7.30pm
Grey seals of South Walney Nature Reserve - Monday 30 November 2020, 6.30pm-7.30pm
How to sew pollinator Christmas decorations - Wednesday 2 December 2020, 7.00pm-8.00pm
Future online events include:
Nature in Winter - Wednesday 16 December 2020, 6.30pm-7.30pm
A History of the Dunes - Monday 11 January 2021, 6.30m-7.30pm
'If bats are blind, why don't they fly into trees?' - Thursday 18 February 2021, 6.30pm-7.30pm
This series of wildlife-inspired online events has been made possible thanks to help from the National Lottery Heritage Fund's Emergency Recovery Grant.