Laura Giles urges us to ditch the mower this month and get close up and personal with our lawn, to see how many flowers are growing there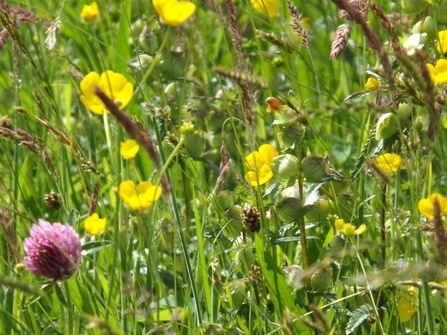 Imagine yourself on a warm sunny afternoon in the garden, and it's the enervating smell of freshly cut grass that pervades the senses ...
Since Edwin Budding invented the lawn mower in 1830, the neat, short sward and clean stripe of a mown lawn has been a quintessential feature of a 'tidy' British garden.
However, with the loss of 97% of Britain's wildflower meadows since WWII, and every square kilometre in the UK losing around 11 species of bee and hoverfly between 1980 and 2013, wild plant conservation charity Plantlife believes that the patchwork of people's gardens could play an important role in reversing this trend.
#NoMowMay – the idea of not mowing in May, the time when grass growing (and gardeners' chopping) gets underway in earnest - is part of the challenge to rethink how we cultivate our gardens.
Spectacular benefits to wildlife can be seen very quickly from not mowing during May. Research carried out by citizen scientists (people like you and me), who took part in Plantlife's Every Flower Counts survey found an astonishing 200 species of plants flowering in our lawns, and revealed that 80% of lawns supported the equivalent of 400 bees a day from the nectar produced.
The highest production of flowers and nectar score was, perhaps surprisingly, found to be in lawns that were cut every four weeks to a length of around 5cm.
This encouraged 'mower-ducking' plants like daisies and white clover to thrive, allowing them to flower in profusion between cuts and boosting nectar production tenfold.
The greatest diversity of plants was found in grass that was left unmown all summer. By leaving even small areas of grass to grow longer helps create a mosaic of habitats where other nectar-rich plants like oxeye daisy and field scabious can thrive, thereby extending nectar availability into late summer.
By adopting less intense mowing regimes we can create a mosaic of habitats – and reduce your gardening workload, which may attract up to ten times more bees and other pollinators.
Many of us have found extra solace in our gardens this spring. We have had the time to observe and enjoy more than ever the wild flowers and the wildlife they attract. 
So, with this extra time, why not take part in this year's Every Flower Counts survey (23 - 31 May)?  You'll find out how much nectar the flowers on your lawn are producing to feed our pollinators and you'll see how every flower really does count.
Cumbria Wildlife Trust offers lots of advice on how to make your garden wildlife-friendly. To find out more, sign up for the free wildlife-gardening e-newsletter.