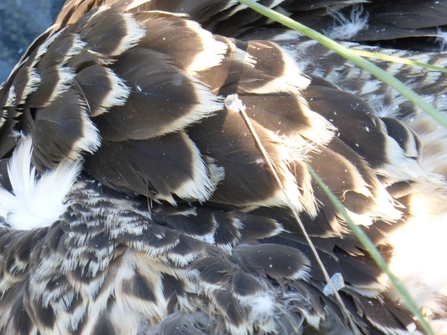 First off they're big birds reaching up to 60cm long with a giant 180cm wingspan (that's 24 inches and 71 inches respectively in old money). Though they are much the same size as a buzzard they have distinctively solid white colouring on their underside, with characteristic dark patches around their "elbows". As you can see from the close up many of the feathers are brown with white tips, giving the bird a mottled, almost stripy appearance.
Scientifically they have their own family completely separate to eagles or hawks and they are also unique in their eating habits. They feed almost exclusively on fish – so if you spot a large bird hovering over a body of water before dropping like a stone to grab a fish, that'll be an osprey.
Depending upon availability they can hunt for food in a radius of around 10 – 15 miles, though this can stretch up to 30 miles when they're busy tacking down enough food to feed their growing chicks. Our Foulshaw Moss osprey can be seen out over Morecambe Bay and often drop into the RSPB Reserve at Leighton Moss to do their "food shop".