Another Osprey breeding season is ready to unfold at Foulshaw Moss Nature Reserve
A highlight for what has been a hard week for everyone has been the return of the lovely Blue 35 to the nest at Foulshaw Moss Nature Reserve. Despite having to close the gates at Foulshaw Moss due to the current pandemic, our moods have been uplifted by the distraction of watching the Osprey Cam.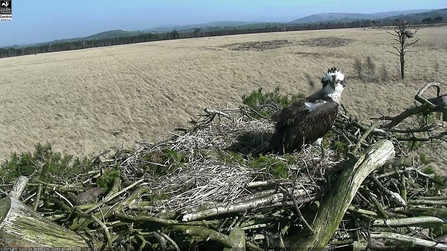 Blue 35 arrived back early in the morning of Thursday 26th March, but happily kept us guessing her identity keeping her leg ring close to her chest for a while. She has been busying herself with spring cleaning the nest and doing lots of digging by lying on her chest supported by her wings and digging out the nest with her legs.
Then Friday afternoon as I was sat writing this, with the Osprey Cam playing in the background, Blue 35 started to show different behaviour, like another osprey was around. Sure enough a couple of minutes later there were two osprey on the nest! Just like Blue 35 yesterday this male osprey was not wanting to wave a leg ring at us, so the wait began. Everyone watching and waiting fingers poised to take a screenshot of a leg should it appear. Then a glimpse, a slight glimpse, it was a white ring with a distorted image of letters not enough for a confirmed ID, yet.
The ospreys are still chatting to each other on the nest as I type, I do wonder what they are taking about: their trip back here, how their winter has been. Lots to catch up on. For now, we will leave them to get re-acquainted with each other.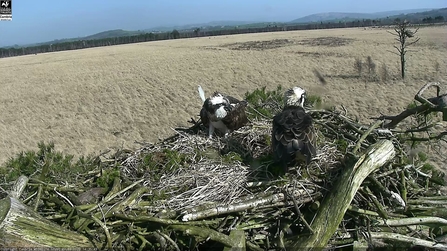 I will keep you all updated as we go, so that despite not being able to visit at the moment you will get as much of the story as possible. 
If you feel you'd like to have a look at Foulshaw Moss Nature Reserve from the comfort of your own home we now have an amazing new resource where you can take a virtual tour of the nature reserve, including information points and a link to the Osprey Cam.
Until next time, Danni
360 degree virtual tour of Foulshaw Moss