Education and Volunteering Team volunteers Jan and Judith
Volunteers, Jan McArthur and Judith Wallen support Jamie Normington, the Trust's Education and Volunteering Officer. If you make a volunteer enquiry or register as a new volunteer, chances are that either Jan or Judith will respond to your enquiry. Normally working at the Trust's main offices at Plumgarths, they now find themselves, like many, busy working from home, keeping on top of the increasing numbers of new enquiries about volunteering.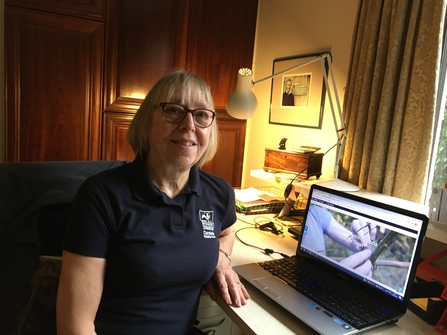 Jan's volunteering
Back in 2002, a Cumbria Wildlife Trust doorstep recruiter signed me up as a member and a couple of years later, I found myself offering my services as a volunteer. I received a warm welcomed onto the team in the Education and Volunteering office. I loved it from the start.
I have helped on several Cumbria Wildlife Trust projects, but over the past few years, I have settled into the job of registering all new volunteers. This involves stretching my IT skills to their limits so I've been grateful to be able to extend my knowledge with the help of Judith and some of the staff at the Plumgarths headquarters. The volunteer registration forms are sent in through the website and I enter the data onto the system and try to match up volunteers with available volunteer roles. We get a lot of satisfaction from doing this and also in trying to maintain a paper-free approach to our work.
Judith and I work closely with Jamie Normington and offer help with other tasks when necessary. Even through these difficult lockdown months, we have continued to work from home, maintained contact with each other and enjoyed our on-line meetings. Volunteer applications have continued to pour in. I have to admit that I've really appreciated having Wednesdays as a time where there is a bit of structure to my day!
I feel so lucky to have this volunteering role and look forward to doing it for as long as my brain can keep up with the fast-changing advances in technology.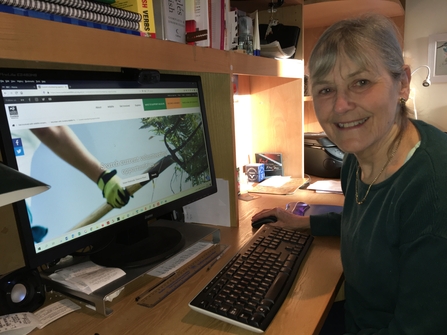 Judith's volunteering
I have been a Trust volunteer for quite a few years now.  Jan and I support Jamie Normington the Trust's Education and Volunteer Officer, in handling all the new volunteer registrations. I work mainly to identify potential volunteer opportunities and use the Trust's contact database to identify volunteers who might be interested in helping.  I prepare the content for the volunteer newsletter, Involve which is then put into the newsletter by the Trust's Marketing team.  I also maintain the volunteer pages on the Trust's web site.
In my second role I work with the Trust's Membership Admin team mainly on the data we store about our members, volunteers and other contacts.  I see my role as polishing and fettling the data to help make it clean and reliable.  I make sure that our systems work properly when people unsubscribe to our e newsletters, I help hunt down duplicate records and I identify and remove contacts and their data in accordance with the Trust's data retention policies.
These roles have enabled me to make good use of database skills from my previous working life and keep them up to date with training on the new Trust database.
In summer,  for variety,  I really enjoy doing  hay meadow surveys for the Trust with my survey partner Joan Hunter.  When I am not working for the Trust I am usually busy out doors either gardening, walking or tackling himalayan balsam. 
Fortunately in this last rather difficult year, I have been able to work from home.  I have really missed going into the Plumgarth's office and catching up with other volunteers and staff but we have been able to keep in touch via Teams.  It is great to work with such a lovely friendly group of people and to  know that our work really helps the Trust.
In the past I have been involved with many of the Trust's projects both as a surveyor on projects such as the tarns project and previous hay meadow projects and as a volunteer coordinator helping other volunteers to get involved in projects.  In fact that is where I started volunteering with the Trust, back on the Roadside Verge project which the Trust ran in the mid 2000s.  I have also had the immense priviledge of serving as a Trustee for many years.