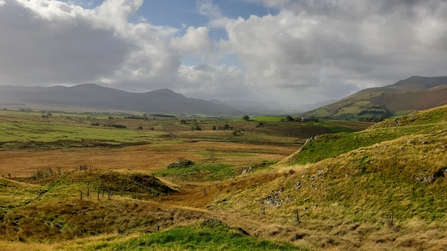 Our third day as the new apprentices was the most fascinating for me personally. We attended a moth ID course at Mungrisdale Village Hall lead by Stephan Owen of the Cumbria Wildlife Trust and moth enthusiast Tristan Reid. After a 1 hour 40 minute drive and getting lost, we arrived at Mungrisedale Village Hall.
The day started with a brief introduction from each of the attendees and a presentation on the different kinds of moths and various different traps. After looking through some photos of some rather spectacular moths caught by Tristan in his back garden we moved on to identifying live moths ourselves. Some caught on Eycott Hill reserve and some from Tristan's garden. It was fascinating looking at the finest details on what seemed to be identical moths to categorise them into totally different species.
The second part of the day involved a visit to Eycott Hill 10 minutes' drive from Mungrisdale. Here we would attempt to find and catch some day flying moths with butterfly nets but also release the moths caught from Eycott Hill the night before.
Sadly we were quite out of season for dayflying moths and had no success catching any. We did however see some striking wildlife while we were there including a 4 Spot Orb Weaver spider, a Fox Moth caterpillar and Grass of Parnassus (Cumbria's county flower) all pictured below. Despite the lack of daytime moths it was great to visit Eycott Hill and take in the stunning views over Ullswater and the surrounding fells and we hope to visit